Bahrain
Middle East
Bahrainis stage nationwide rallies, general strike to mark uprising anniversary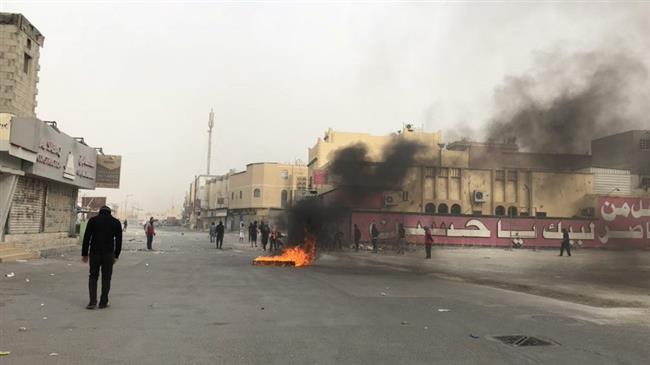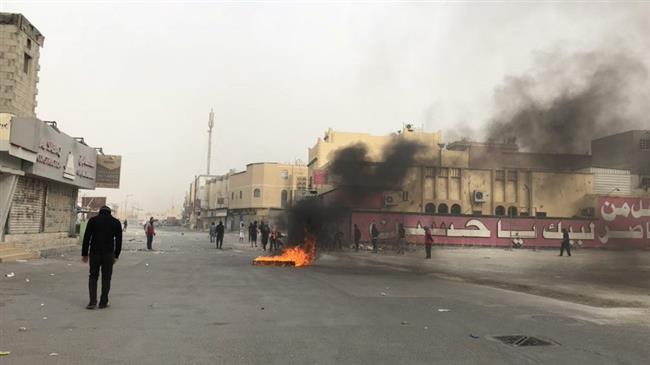 Seven years ago on this day, the Persian Gulf monarchy of Bahrain witnessed the birth of a popular uprising that has continued uninterrupted until now. Marking the seventh anniversary of the movement against the ruling Al Khalifah regime, thousands of Bahrainis have spilled out into the streets across several towns and villages amid a heavy police presence.
Anti-regime protests have been underway since early Wednesday amid a general strike across the kingdom, with clashes reported in some areas.
Reports coming out of the tiny island nation suggest regime forces have attacked the demonstrations in Shia-populated villages such as Ma'ameer Abu Saiba, attempting to disperse the participants.
They have fired tear gas and shotguns at the people gathering in cemeteries to remember those killed at the hands of Bahraini forces during street protests in recent years.
Regime forces are said to have removed the concrete blocks set up by the demonstrators.
Since February 14, 2011, Bahraini people have been holding peaceful protest rallies on an almost daily basis, demanding that the Al Khalifah family relinquish power and let a just system representing all Bahrainis be established.
Bahrainis have also been complaining against widespread discrimination against the Shia majority in the kingdom.
Manama has responded to the protests with lethal force, drawing international criticism. In March 2011, troops from Saudi Arabia and the United Arab Emirates were also deployed to assist Bahrain in its crackdown.
Bahraini authorities have also detained human rights campaigners, broken up major opposition political parties and revoked the nationality of several activists.
Manama 'not interested in dialog'
Talking to Press TV, author and political commentator Naseer al-Omari slammed the regime in Manama for refusing to engage in dialog with the demonstrators, who are "peacefully demanding reforms."
He said, however, that the Bahraini people will not be intimidated by the regime's pressure tactics such as arrests and torture.
"This is a regime that is obviously not interested in dialog with the leaders who have been asking for genuine dialog and representation. And by the way, they have not asked the king to abdicate. They are asking the king to have a representative democracy and still this regime does not want any dialog with its own people," he added.
Manama acting as Saudi slave: Ex-MP
Meanwhile, Jalal Fairooz, a former Bahraini lawmaker, also told Press TV that the Bahraini "dictatorship" is supported by Saudi Arabia, stressing, however, this has failed to make the people "retreat from their demands."
"The Saudis' mindset is that they have to control not only Bahrain but the whole [Persian] Gulf…when it comes to Bahrain, they think it is part of Saudi. They will not allow any reform or democracy in Bahrain because they are very afraid that when the Bahraini people gain some democracy, then the people in Saudi will look forward to the same," he said.
Fairooz said Saudi rulers expect Bahrain to follow the policies dictated by Riyadh, adding that the Manama regime "has been just like a slave to the Saudis."