Bahrain
Bahrain's crackdown continues in Ramadan as regime forces attack political inmates in Jau prison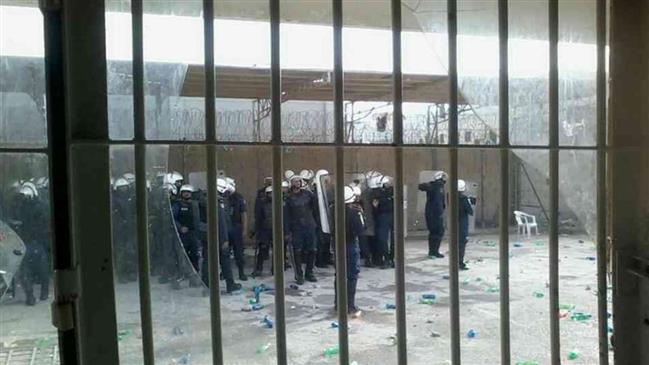 Bahraini regime forces have reportedly attacked and injured dozens of inmates at the notorious Jau Prison as the ruling Al Khalifah regime presses ahead with its crackdown even during the holy fasting month of Ramadan.
The Britain-based and Arabic-language Bahrain al-Youm news agency, citing Sayed Ahmed Alwadaei, a human rights activist and director of advocacy at the Bahrain Institute for Rights and Democracy (BIRD) NGO, reported that prison guards stormed into Building 13 of the detention facility over the weekend and assaulted the inmates.
The activist added that blood stains could be seen all along the corridor of the ward as the attack was filmed by closed-circuit television cameras.
Wadaei then expressed concerns that the victims – all political prisoners – could be subjected to further torture in other buildings at the prison, or at the so-called Royal Academy of Policing, where torture has been widely reported.
A Bahraini opposition figure and former legislator says more than 3,500 opponents of the Al Khalifah regime are subjected to various forms of torture at prisons across the country.
Jalal Firooz, a member of the opposition al-Wefaq National Islamic Society, told the Islamic Republic News Agency (IRNA) on Saturday that torture, overnight raids, arrest campaigns, human rights violations and revocations of citizenship continue unabated in the Persian Gulf country.
"The popular Bahraini uprising has not been suppressed. It is like fire under the ashes. People continue to stage nightly demonstrations and the rallies have not stopped," he said.
Firooz added, "Westerners tend to ignore the Al Khalifah regime's crimes. If there is any pressure, it is merely aimed at extorting money (from Bahraini authorities) and striking arms deals."
Demonstrations in Bahrain have been held on a regular basis ever since a popular uprising began in mid-February 2011.
The participants demand that the Al Khalifah regime relinquish power and allow a just system representing all Bahrainis to be established.
Manama, however, has gone to great lengths to clamp down on any sign of dissent.
---