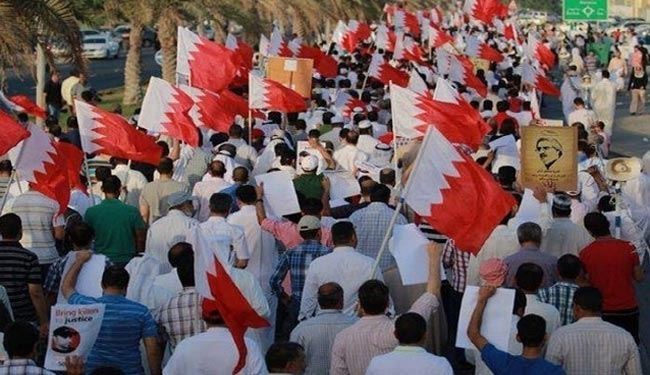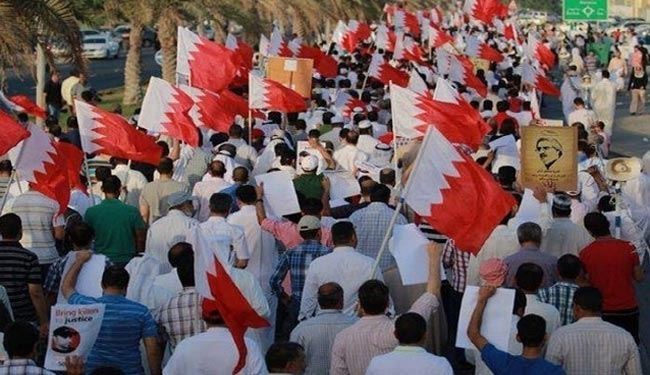 The Bahraini people took to the streets across the country to mark the fourth anniversary of the popular uprising amid a heavy-handed crackdown by Al Khalifa regime forces to curb the undying anti-government rallies.
Police on Saturday fired tear gas and used rubber bullets at the demonstrators who were calling for political reforms by the ruling minority royal family.
Police deployed heavily as men and women carrying Bahrain's red and white flag alongside portraits of detained activists chanted "Down Hamad", in reference to the Sunni king, witnesses said.
They fired tear gas and sound bombs and beefed up security around several villages and along major roads across the country, the witnesses said, without reporting any casualties.
People also called for the release of the main opposition leader Sheikh Ali Salman, who was arrested in December.
Meanwhile Secretary General of Al-Wefaq powerful Bahraini opposition group Sheikh Ali Salman demanded people to continue their revolution against the tyrannical rule of the Manama regime.
Bahrain's People Mark 4th Anniversary of Revolution
"I feel tranquility and peace of mind flooding my heart thanks to Allah Almighty … You made me shy by your noble stance on my arrest. You made more than what is expected from you, and I am grateful to you for your positions," Sheikh Salman told the Bahraini people in a message he sent from Al-Khalifa prison, and posted on his Twitter account on Friday, Al-Manar reported.
"Do not forget the rest of the detainees.. Do not forget our main demand of electing our government in a democratic and sound way, as well as electing the parliament that legislates decrees without the tutelage of a particular council, in periodic elections based on equality," he said.
His arrest on December 28, shortly after he was re-elected head of Bahrain's main opposition party Al-Wefaq, has sparked near-daily protests in Shia villages. Attacks targeting security forces have also increased.
Peaceful revolution erupted in Bahrain on February 2011, however, the monarchy of Hamad bin Issa Al-Khalifa launched a brutal crackdown on the people, who are demanding democracy and social reform.
The opposition is demanding a "real" constitutional monarchy with an elected prime minister who is independent of the ruling royal family.But the Al-Khalifa dynasty has refused to yield.
Bahrain's Saudi-backed Sunni Muslim authorities crushed protests led by its majority Shiites shortly after they erupted on February 14, 2011, taking their cue from Arab uprisings in the Middle East and North Africa.
Home to the US Fifth Fleet, Bahrain sits across the Persian Gulf.