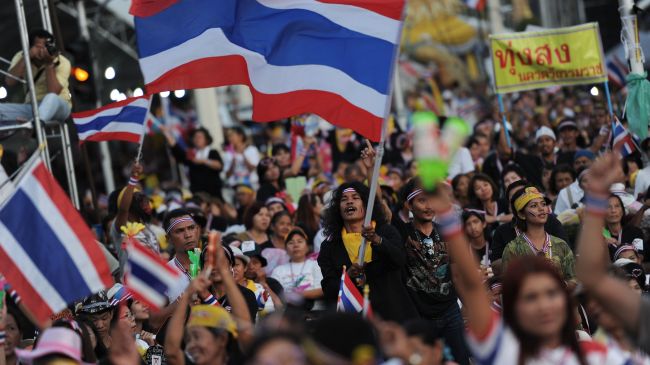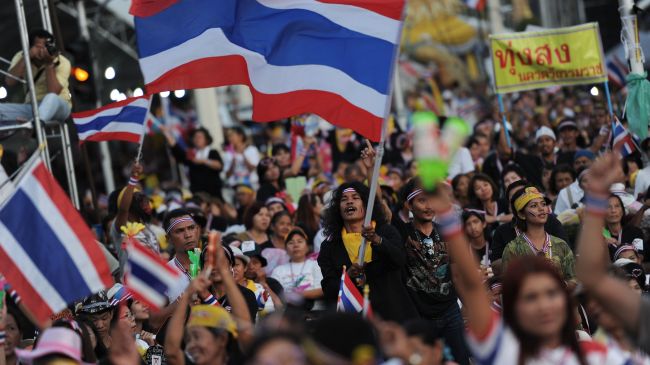 People of Thailand have held a protest in Bangkok to demand resignation of Prime Minister Yingluck Shinawatra.
Chanting anti-government slogans on Sunday, the protesters said the Shinawatra administration was being controlled by her older brother, ousted former Prime Minister Thaksin Shinawatra.
The protest was the biggest since 2010, when Thailand was rocked by its worst political bloodshed in decades that left more than 90 people dead.
The demonstration in Bangkok was led by former opposition lawmaker Suthep Thaugsuban.
Addressing the demonstrators, deputy opposition leader Suthep Thaugsuban said, "What we want is to get rid of the Thaksin system."
"The government is part of the Thaksin regime, but the Thaksin regime has planted its roots deeply in Thailand already."
Chanting, "Thaksin get out, army come in," some of the demonstrators called for the intervention of the military to force the elected government to step down.
Thailand has seen 18 actual or attempted coups since it became a constitutional monarchy in 1932.
Thaksin, who was accused of corruption and disrespect for the country's constitutional monarch, King Bhumibol Adulyadej, was toppled in a 2006 military coup following a battle for power between his supporters and opponents.
Thaksin has lived in self-imposed exile for the past five years to avoid a prison sentence on a corruption conviction.
Protest organizers threaten to march to 12 different Bangkok locations on Monday, including the headquarters of the police and the different branches of the armed forces, and the five television broadcast stations controlled by the military or the government.
Around 50,000 pro-government "Red Shirts" also staged a rival demonstration overnight in a suburban football stadium in Bangkok in support of the premier and Thaksin.
Yingluck came to power after the elections of 2011 on a wave of support from the "Red Shirts," whose protests in 2010 were crushed by the previous government.