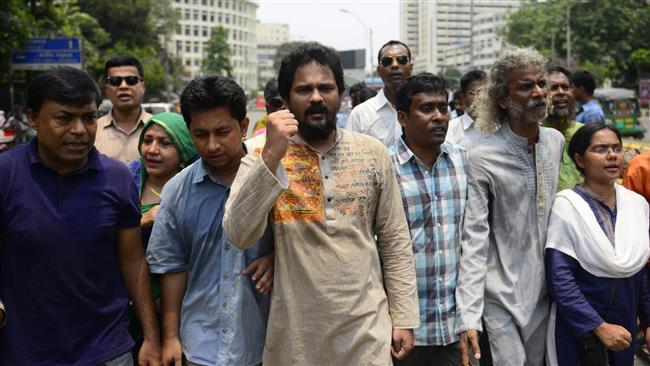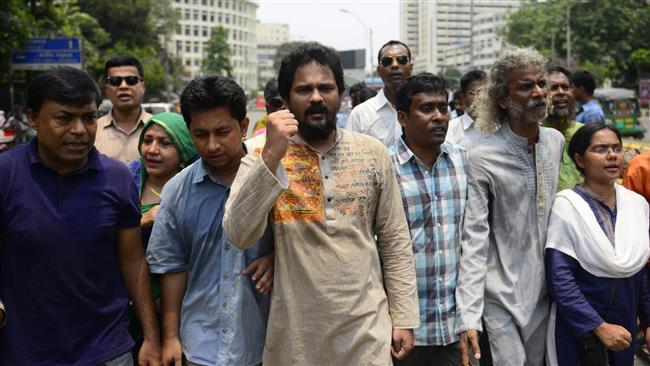 Bangladeshi authorities deploy thousands of police officers across the capital, Dhaka, to stave off potential violence in the aftermath of the execution of an opposition leader.
Motiur Rahman Nizami, leader of the Jamaat-e-Islami party, was hanged at a Dhaka jail late Tuesday for genocide and other crimes committed during the 1971 war of independence from Pakistan.
The heavy police deployment came after the outlawed political party demanded a nationwide strike in a show of protest against Nizami's hanging.
On Wednesday, violent clashes broke out between supporters of Bangladesh Jamaat-e-Islami and security personnel in the northwestern city of Rajshahi.
Bangladeshi law enforcement agencies have beefed up security measures in Nizami's ancestral northwestern district of Pabna, where his body was taken for burial in his family's grave.
Nizami is the fifth high-profile Jamaat party member to have been executed since Prime Minister Sheikh Hasina's secular government set up a tribunal in 2010 to investigate war crimes.
In October 2014, the International Crimes Tribunal found him guilty on charges of murder, rape and orchestrating the killing of top intellectuals during Bangladesh's bloody and scarring war of independence from what was then East Pakistan in 1971.
Bangladesh Jamaat-e-Islami Party strongly dismissed the charges, calling them false and aimed at removing the leadership of the party.
"Nizami has been deprived of justice. He's a victim of political vengeance," Maqbul Ahmad, the party's acting leader, said.
Nizami took over the leadership of Bangladesh Jamaat-e-Islami Party in 2000. He also served as the agriculture minister from 2001 to 2003, and as the industries minister from 2003 to 2006.
In August 2013, the Supreme Court issued a verdict banning the registration of the party to contest national polls.
Government officials accuse leaders of Bangladesh Jamaat-e-Islami Party of siding with Pakistan in the independence war.
On Thursday, President Tayyip Erdogan said Turkey had withdrawn its ambassador to Bangladesh following the execution.
There have been a handful of protests against the execution in recent days in Turkey.