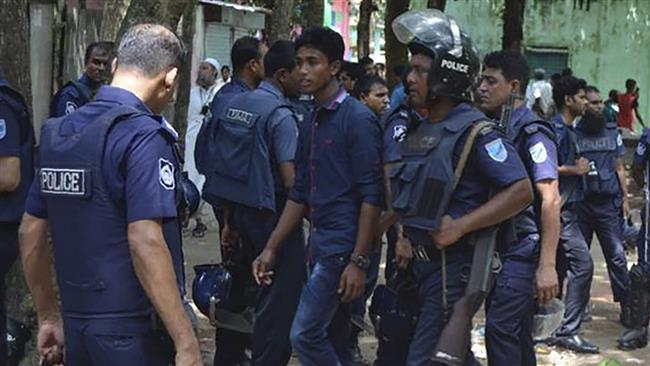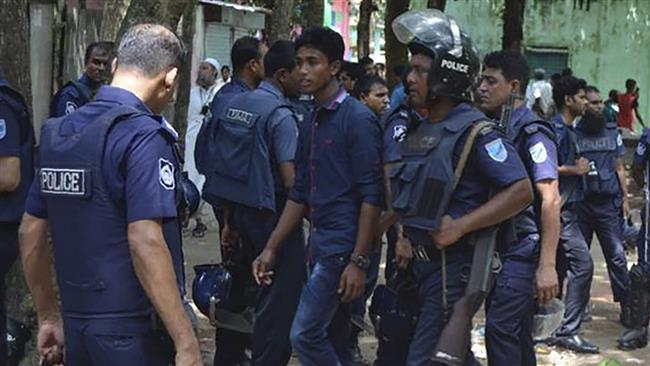 Security forces in Bangladesh have arrested four members of a banned group suspected of involvement in an attack on a cafe in the capital, Dhaka, earlier this month.
Bangladesh's elite Rapid Action Battalion (RAB) made the announcement on Thursday, saying the four militants, who were members of the banned group of Jamaat-ul-Mujahideen Bangladesh (JMB), were arrested when the forces raided their hideout in an apartment building in the town of Tongi, located to the north of the capital.
"Among them was Mahmudul Hasan, the southern regional head of the JMB. He is a top militant trainer," said Mufti Mahmud Khan, RAB's spokesman.
Khan said weapons, including eight bombs, a pistol, more than 100 rounds of ammunition, eight machetes and also bomb-making material had been recovered from the flat.
He said the militants "were planning to carry out an act of sabotage" in the South Asian country.
An attack on the Gulshan café in Dhaka killed at least 20 civilians, including foreigners, on July 1.
The militants trained under Hasan were responsible for the murder of a police constable and a deadly bomb attack on Bangladesh's most respected Shia shrine in Dhaka late last year, Khan added.
The Bangladeshi government blames banned local groups such as JMB and Hizb ut Tahrir for gruesome murders in recent months. The government rejects claims of responsibility by the Takfiri Daesh group and al-Qaeda, saying international terror groups have no presence in Bangladesh.
However, Daesh claimed responsibility for the July 1 attack on Gulshan café in Dhaka.
Police in Bangladesh have arrested more than 11,000 suspects in a major crackdown on militants over the past four days.
Opposition parties have accused the government of using the crackdown to suppress political dissent, claiming that many of those arrested were ordinary and innocent people.