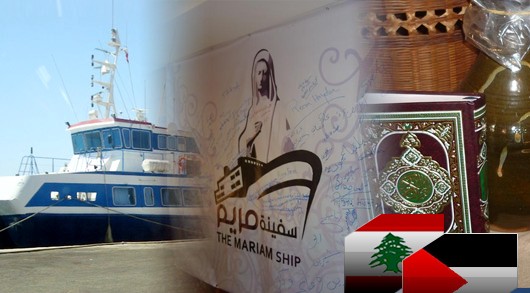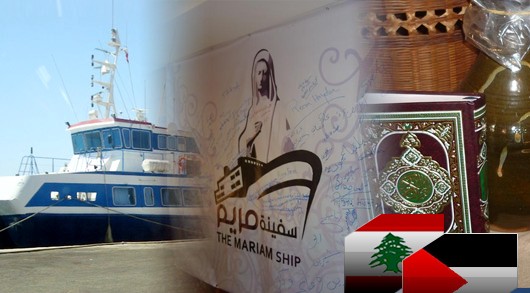 Two days before the ship carrying women activists and aid for the blockaded Palestinian territory of Gaza starts its trip, Israel rushed to threaten Lebanon and warn of the move's negative repercussions.
According to Israeli Defense Minister Ehud Barak, the ship "is a provocation intended to aid a terror organization."
"The ship that is preparing to sail from Lebanon has nothing to do with humanitarianism," Barak claimed, adding that this activity is intended to aid a terror organization whose goal is to "kill Israeli civilians."
Barak called on the Lebanese government to prevent the ship from leaving its ports. He also reached out to international officials who may have some sway in Lebanon, and asked them to press the government to prevent the ship from departing for Gaza.
"If the ship insists on arriving, in opposition to the current blockade, Israel will be forced to stop it and bring it to the port of Ashdod," Barak warned.
The ship cannot travel directly to Gaza from Lebanon because Beirut is still at war with Israel, forcing the vessel to pass through a third country – in this case, Cyprus – before heading for the blockaded Palestinian territory.
But on Thursday, the Cypriot ambassador to Lebanon told The Associated Press that the boat, the Mariam, will be turned back when it reaches Cyprus. "We decided that such a ship will not be allowed to enter Cyprus and if such a Gaza-bound ship docks in a Cypriot port the crew and the passengers will be deported to their country of origin," Kyriacos Kouros said. Kouros said Cyprus has a moral and legal responsibility to those allowed into its waters, and that a blockade-busting ship could endanger lives along with regional peace and stability.
For his part, Cypriot police spokesman Michalis Katsounotos confirmed that Cyprus will not allow the ship to sail from its ports. "Our position is clear. The arrival and departure of vessels to or from Gaza via Cyprus ports is prohibited and we will implement that decision," Katsounotos told Reuters.
But organizer Samar al-Hajj was undeterred Thursday, and said the ship, named after the Virgin Mary, will set out with between up to 75 female activists on a mission to deliver cancer medication, books and toys. "We are not children who can be told to stay home," al-Hajj told the AP after a chaotic news conference outside the port in Tripoli, where security forces prevented the group from speaking to the media from the ship.
Yasser Qashlaq, an organizer of the Mariam expedition also said the vessel would still leave Lebanon's northern port of Tripoli Sunday evening. He said Cyprus had no right to stop ships sailing to Gaza and would need to explain any ban in writing.
He said Thursday that Lebanese authorities had given permission for the Mariam to sail to Cyprus. Lebanon does not authorize ships to sail directly to Gaza because it is in a state of war with the Israeli enemy, which controls Gaza waters.