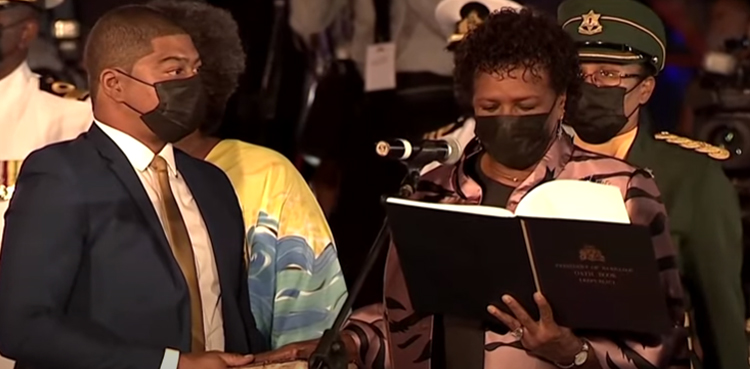 Barbados has become a republic, putting an end to 400 years of British reign and ditching Queen Elizabeth as head of state.
The Caribbean island nation forged a new republic with its first-ever president in the sight of hundreds of people, who gathered in Chamberlain Bridge in the capital city of Bridgetown on Tuesday to celebrate the end of British rule.
Sandra Mason was sworn in as Barbados' first president in the ceremony. She had been elected last month by a joint session of the country's House of Assembly and Senate.
"We the people must give Republic Barbados its spirit and its substance," Mason said. "We must shape its future. We are each other's and our nation's keepers. We the people are Barbados."
Prince Charles, heir to the British throne, was a guest of the ceremony, standing somberly in the corner, as the royal standard was lowered. Charles' visit to the island had been opposed by Barbadians as they believed that the royal family had benefited from slave trade in Barbados for centuries.
In an interview amid the celebration in Bridgetown, activist David Denny said, "Our movement would also like the royal family to pay reparation."
Meanwhile, Press TV's London Correspondent Saeed Pourreza said Barbadians were calling for an "apology" and "reparations" from the British monarchy for its colonial-era human slave trade. "It's not really about money, but it's about justice and an apology from the monarchy for whatever happened [in Barbados] over the course of centuries," Pourreza said.
Barbados received 600,000 enslaved Africans between 1627 and 1833. They were put to work in sugar plantations, earning millions of pounds for British owners. In just a few decades, Barbados became England's first truly profitable slave society.
"Full stop this colonial page," Winston Farrell, a Barbadian poet, told the ceremony. "Some have grown up stupid under the Union Jack, lost in the castle of their skin."
"It is about us, rising out of the cane fields, reclaiming our history," he said.
Removing the British queen as Barbados' head of state is a step that supporters of the transition hope will spur discussion of similar proposals in other former British colonies. Elizabeth II is still queen of 15 other realms, including Australia, Canada, and Jamaica.
Barbados will remain a republic within the Commonwealth, an association of 54 independent countries across Africa, Asia, the Americas, and Europe.