North America
#BareShelvesBiden trends on Twitter as US shoppers encounter food shortages
#BareShelvesBiden hashtag is trending on Twitter as American shoppers encounter food shortages in shops across the country.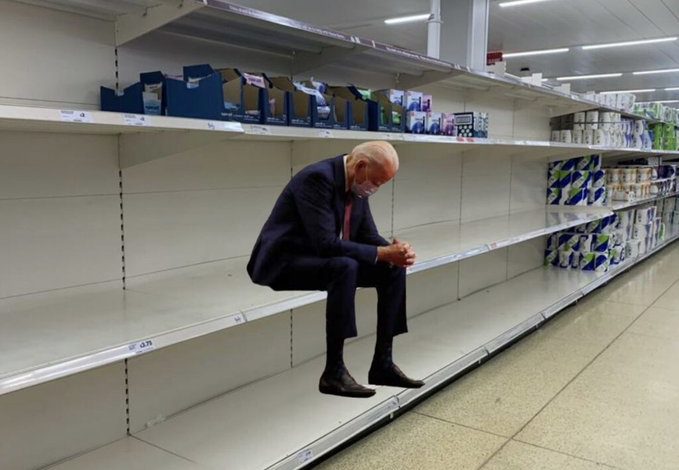 US media reports on Monday cited numerous sources citing food supply chain issues that continue to impact many US consumers.
"The Biden administration has caught flak in recent months for the supply chain crisis and rising inflation that have interrupted Americans' everyday lives," Fox News reported. "Yet White House Chief of Staff Ron Klain and liberal media pundits have suggested the concurrent economic issues have been overblown."
The BareShelvesBiden hashtag featured users tweeting out photographs and films of empty shelves at shops across the US.
Frustrated shoppers and reporters went on to share photos of their local grocery stores and tagging #BareShelvesBiden, which began trending.
The food supply chain shortages, the high rate and continuously rising inflation, and the ongoing economic crisis caused by the coronavirus disease (COVID-19 pandemic) are "devastating" to everyday Americans, according to reports cited by the media.
The supply chain hashtag began trending after New Year on January 10 as many complained they were unable to find staple items like cream, pasta, and canned goods.
"(There's) not as much variety as there used to be, especially with paper goods, household cleaning items such as laundry products, soft drinks and even frozen items," one shopper told a local news outlet
In the meantime, the majority of Americans are blaming US President Joe Biden for the country's economic problems.
Sixty percent of 1,895 people surveyed for a CNBC/Change Research poll said they "disapproved" of the way Biden handles the economy.
About 72 percent of those interviewed disapproved of Biden's handling of the prices of everyday goods.
Sixty-six percent were also unhappy with Biden's policies to "help their wallets".
Some Americans link Biden's Build Back Better agenda to the crisis, saying the spending bill is the cause of the food shortages.
In the US in 2021, the rate of inflation surged by 6.8 percent, the highest rise since 1982.
The cost of energy, including gas, increased by 33 percent, and the price of food went 6.1 percent up.