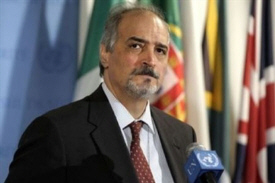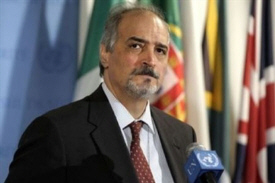 Syrian permanent representative at the United Nations Bashar al-Jaafari stressed that the conspiracy against his country was thwarted, noting that some Western and Arab states were frustrated because they failed to crush the Syrian will.
In an interview with the Arab television al-Mayadeen, Jaafari said that Arabs have been divided inside the international organization like their countries.
He said that western and Arab sides are very frustrated due to the failure of their various diabolical efforts to break Syria's will, defame Syrian diplomacy, weaken political will, and depict Syria as being helpless to respond to the crisis.
Jaafari said that interference in Syria's internal affairs takes many forms, including the issues of the displaced, humanitarian passages, no-fly zones, the so-called "friends of Syria" conferences, forming representative bodies and councils abroad, and convening 19 Arab ministerial conferences.
Jaafari stressed that conspiracies at the Security Council were foiled by the strength of the Syrian argument, the positions of friends, the solidity of the solidarity among Syrians.
He noted that as Russia and China used the veto to hinder western resolutions against Syria, the two countries had also presented several draft resolutions aimed at ending the ongoing crisis. However these draft resolution were refused by the West.
The Syrian representative stressed that the Arab League has become divided and controlled by the Arab Gulf, petro-dollars, and Takfiri, Wahabi, extremist Islamist fundamentalism.
On the other side, Jaafari stressed that armed groups cannot produce weapons without supervision from scientifically-advanced intelligence agencies, noting that western countries and their subordinate Arab countries were the first to raise this issue with the aim of covering up the arming of terrorism and finding a new pretext to interfere.
He also pointed out that the Syrian mission at the UN has been facing a financial siege by the international organization and Washington, such as closing its bank account in New York, prohibiting any account for it in Wall Street.