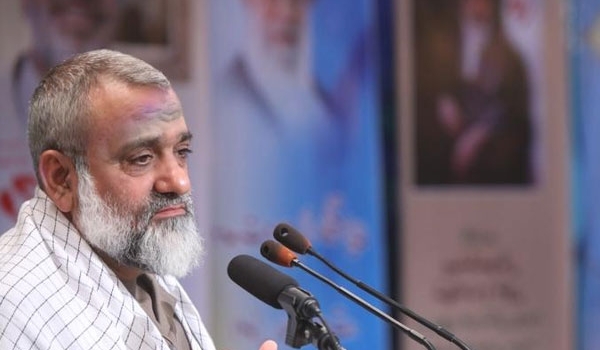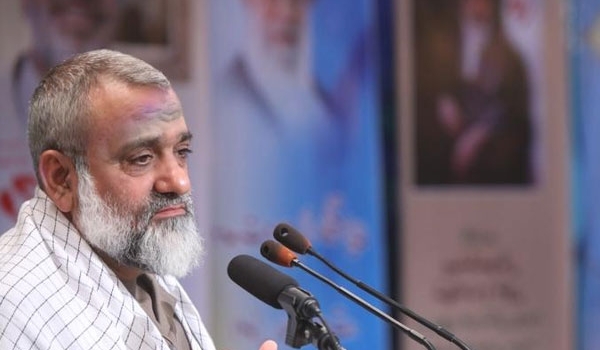 Commander of Iran's Basij (volunteer) Force Brigadier General Mohammad Reza Naqdi blasted the masterminds of the recent terrorist attack in Paris, and said the attack was aimed at stopping the growing tides of Islam-seeking in Europe.
"Europe which is faced with an Islam-seeking wave has no way but committing crimes in Paris under the name of Islam," Naqdi said, addressing a forum in Tehran on Tuesday.
He referred to the reports and analyses released by the western media outlets after the attack which killed 12 people in Paris, and said the reports were written with such a level of bias that the Israeli officials who had massacred thousands of innocent Palestinians last summer came to France to participate in the anti-terrorism protests.
He blasted France for sheltering terrorist groups, reminding that the country is one of the main supporters of Takfiri terrorists in Syria and Iraq.
In relevant remarks on Saturday, Supreme Leader's senior advisor Ali Akbar Velayati said the Wednesday terrorist attack in Paris indicated that terrorism was spreading to the western states as already warned by Iran.
"We condemn the terrorist actions that took place in France as the Islamic Republic of Iran deplores any terrorist move which leads to the killing of innocent people in any part of the world and we regret that many French people have been killed by the terrorists," Velayati said on the sidelines of a meeting with Cypriot Foreign Minister Ioannis Kasoulides in Tehran.
"This should warn those western or regional states that support terrorists directly or indirectly that when the dirty flames of terrorism are blown, they will spread to the entire world," he added.
Velayati underlined that terrorism had a blind logic which was not accepted by any religion, including Islam and Christianity.
The Iranian Foreign Ministry on Wednesday deplored the terrorist attack in the French capital city.
Foreign Ministry Spokeswoman Marziyeh Afkham condemned the attack, and said any act of terrorism against innocent people was opposed to Islamic teachings.
"Misusing freedom of expression, ideological extremism and character assassination of respectful figures of religions and nations as well as insulting divine faiths and their values and symbols which are respected by those religions are not acceptable and are condemned," Afkham said.
Reacting to the Paris incident, she said those acts were continuation of the wave of extremism and unprecedented physical and ideological violence prevailing worldwide during the past decade.
Afkham regretted that the "inappropriate and double standard policies in dealing with violence and extremism have led to the spread of those acts and behaviors".
She reiterated President Rouhani's idea of creating a world free from violence and extremism, and expressed the hope that world leaders would adopt a unified policy through consultation and free from double standard policies to uproot causes of violence and extremism.
At least 12 people were killed on Wednesday when masked gunmen stormed the Paris offices of the weekly satirical magazine, Charlie Hebdo, and opened fire. The French authorities have called the incident the worst terror attack in four decades.