Iraq
Battle for Mosul Day 235: Several Areas Inside Mosul's Old City Recaptured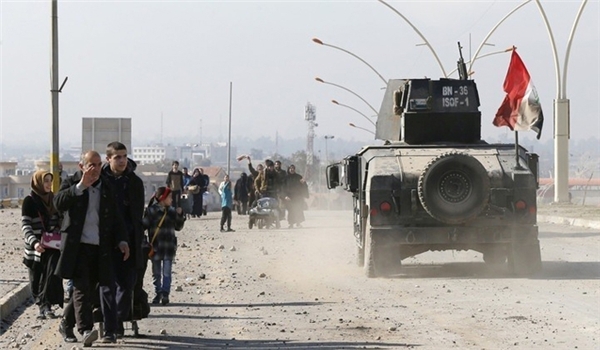 The comprehensive military campaign by Iraqi military forces to liberate the Northern city of Mosul from ISIL militants continued on Tuesday, as local reports said Iraqi forces recaptured several areas in and around Mosul's Old City.
Iraqi Forces Recapture Several Areas Inside, Outside Mosul's Old City
Iraqi government forces recaptured on Tuesday several areas inside and around the ISIL's Old City, and killed doze of militants as operations continue to clear the group's last enclave in Mosul.
Col. Khodeir Saleh, from Nineveh police service, said that Federal Police forces invaded Deka Baraka and Bab Lakash in the Old City, killing 30 militants, including a Russian national, Bas News reported.
Iraqi warplanes, Saleh said, also killed ISIL's so-designated "media minister", Udai hamdoun. But seven civilians were also killed by mistake when fighter jets pounded al-Maydan area in central Mosul, he said.
Three Iraqi Servicemen Injured as ISIL Launch 10th Chemical Attack in Mosul
Three Iraqi officers were wounded as ISIL militants launched a chemical attack from Western Mosul's Old City to hinder the advancing government troops.
The mortar missile landed near an elite squad from the army's Counter-Terrorism Service, three officers sustained intense vomiting and rashes from the missile which, contained a poisonous gas, probably mustard, Sputnik reported.
The affected personnel were taken late Monday to a makeshift hospital run by the squad, according to Sputnik, which said the attack was the tenth by ISIL militants since operations launched to retake Mosul in October.
US-Led Coalition Bombers Continue Massacring Civilians in Syria
Over a dozen other Syrian civilians were killed in another US-led coalition air raid in areas near the border with Iraq.
"At least 12 civilians have reportedly been killed after US coalition fighter jets struck a number of targets in a village next to the Syrian-Iraqi border," eyewitnesses disclosed.
According to the report, the US-led anti-ISIL coalition warplanes have launched a series of air raids in Hasaka province. In one of the strikes, the bombers struck Tel Hayr village near the Syrian-Iraqi border, killing 12 people, all belonging to one family.
Meantime, the United Nations war crimes investigators reported that the US-led coalition's aerial back up for the Kurdish-led Syrian Democratic Forces (SDF) to take control of Raqqa from ISIL have thus far killed hundreds of civilians and displaced tens of thousands more.
ISIL Media Agency Cameraman Found Beheaded in Kirkuk
Unknown individuals beheaded a cameraman operating within the ISIL's main media agency in Southwestern Kirkuk, a source said Tuesday.
The source said that a cameraman working for Amaq News Agency, ISIL's media arm, was found beheaded at a country road in al-Riyadh, southwest of the province, Al Sumariya reported.
ISIL members were put on alert to search for the attackers, according to the source.
Al-Riyadh and other neighboring areas in Southwest Kirkuk have been under ISIL control since 2014, when the group emerged to proclaim a "caliphate" in Iraq and Syria. The group executed dozens of civilians and security members there, forcing thousands to flee homes.
Iraqi Forces Advance Further Into Old City of Mosul
Iraqi government forces pushed deeper in Mosul's militant-held district of Old City as they are battling to purge ISIL Takfiri militants out of their last bastion in the country's second largest city, warning civilians to stay inside and telling terrorists to "surrender or die."
Staff Major General Maan al-Saadi, a top commander in the elite Counter Terrorism Service, said Iraqi forces advanced into the Old City on Monday, and took control of new areas in the Faruq neighborhood, presstv reported.
He added that ISIL Takfiris are putting up fierce resistance in the wake of the Iraqi army's territorial gains.
"Daesh (ISIL or ISIS) resistance has been fierce. They have blocked every entrance, planted IEDs (improvised explosive devices) and booby-trapped houses our forces might be near. Penetrating was very difficult. Today the fighting is face to face," Saadi pointed out.