Iran
Middle East
North America
Technology
World News
Bavar-373 capable of identifying 300 targets simultaneously, much more advanced than US patriot
Commander of Army Air Defense Force Brigadier General Alireza Sabahifard said that homegrown 'Bavar-373' missile defense system is capable of identifying 300 targets simultaneously.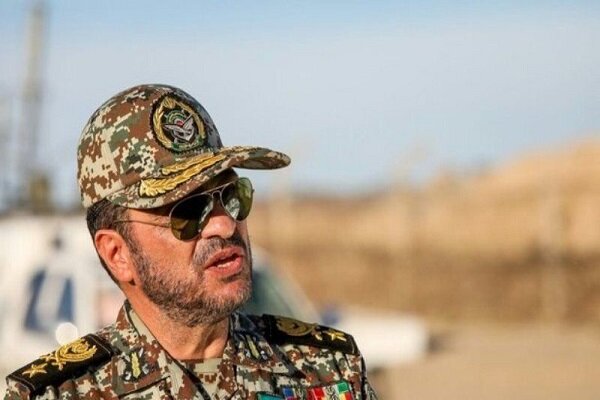 He made the remarks on Thursday in the unveiling ceremony of homegrown Bavar-373 long-range air defense system.
"This sophisticated missile defense system is a joint product of young personnel of the Army Air Defense Force, experienced and committed experts of the Ministry of Defense, as well as academics and knowledge-based companies," he added.
Brigadier General Sabahifard then pointed to the high capability of the defense system, saying "Bavar-373 is capable of identifying 300 targets simultaneously, and prioritizing 100 ones."
He went on to say that Bavar-373 defense system can engage six targets simultaneously, and the number could be increased.
By attaining the technology of designing and manufacturing this advanced missile system, Iran's air defense program today is not reliant on any other country, he said, adding, that the country can meet its missile defense requirements completely.
Elsewhere in his remarks, Brigadier General Sabahifard stated, "Bavar-373 air defense missile system has high capability of engaging with various types of covert and stealth aircraft as well as cruise and ballistic missiles.
One of the most important features of the missile system is that the enemy has no idea what it will be encountering since all the data pertaining to the system is stored inside the country, he stressed.
The new system is said to be capable of neutralizing both conventional aerial targets such as aircraft and drones, as well as high-speed ballistic missiles.
He noted that Bavar-373 is also better than the US Patriot system in terms of its capabilities against ICBMs. He added while the US Patriot is mostly used for surveillance purposes, Bavar-373 has further capabilities.
The deputy defense minister added that Iranian military experts have superior capabilities than Bavar-373 for future systems in mind, the news of which will be duly announced.
He further referred to the achievements in designing and producing radars, adding that the Iranian experts have enhanced the capabilities of existing radars to detect fighter jets.
"We have created locally-developed air surveillance radars to respond to enemy's threats with threats and offensive with offensive, on which the media will be informed later," he noted.