Syria
Beheading any Syrians is the main duty of Turkey, Israel, US, West, Arab Regimes-backed terrorists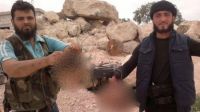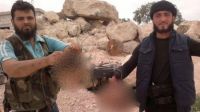 Beheading any Syrians is the main duty of Turkey, Israel, US, West, Arab Regimes-backed terrorists.
In a recent heinous crime by militants in Syria, Takfiri terrorists have captured and decapitated seven soldiers in the east of the Arab country.
According the Syrian website Hadath News, the so-called Jund al-Aqsa terrorist group beheaded seven Syrian soldiers in the town of Banesh in eastern province of Idlib on Wednesday.
The terrorists used cars to drag the soldiers on the streets before they killed and decapitated them.
The terrorists also abused the corpses and used sharp instruments to distort their features.
Since the beginning of the crisis in Syria in March 2011, many reports and videos have been released on similar horrific crimes committed by foreign-backed militants against the Syrian people and soldiers in Syria.