China
Asia-Pacific
Beijing slams G7 statement as gross interference in Chinese affairs
China has denounced a joint statement by the Group of Seven (G7) leaders critical of Beijing as a gross interference in its internal affairs and meant to slander its reputation.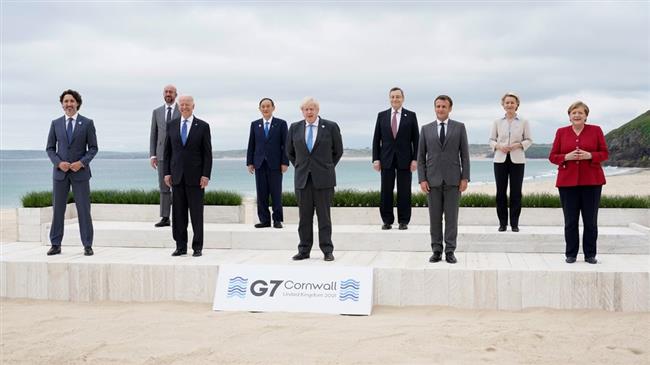 China's embassy in London said Monday that Beijing was strongly dissatisfied and resolutely opposed to the G7's final communique, which distorted the facts and exposed the "sinister intentions of a few countries such as the United States."

"The Group of Seven takes advantage of Xinjiang-related issues to engage in political manipulation and interfere in China's internal affairs, which we firmly oppose," an embassy spokesman said in a statement.
It also accused the G7 countries– namely the UK, Canada, France, Germany, Italy, Japan, and the United States– of "lies, rumors and baseless accusations."
The embassy further urged the grouping to stop creating confrontation and friction by slandering China, and instead, to make efforts to promote peace and international cooperation.
China is a peace-loving country that advocates cooperation, but also has its bottom lines, the embassy said.
"China's internal affairs must not be interfered in, China's reputation must not be slandered, and China's interests must not be violated," it warned, adding, "We will resolutely defend our national sovereignty, security, and development interests, and resolutely fight back against all kinds of injustices and infringements imposed on China."
The G7 leaders on Sunday scolded China over a range of contentious issues related to Xinjiang, Chinese Taipei (Taiwan), Hong Kong and the origins of the coronavirus pandemic.
US President Joe Biden reportedly pressed other G7 leaders to take concrete steps to counter the rise of China.
Biden has repeatedly said that he does not want confrontation with China, but seeks to defeat the Asian powerhouse in the rapidly changing global competition.
After the end of the G7 summit on Sunday, Biden told a news conference that the US will deal with China in a straightforward manner.
China has denounced Washington's aggressive policy, describing it as "too negative," and insisting that the Biden administration is pushing towards confrontation rather than cooperation with China.
Beijing had hoped for an improvement in relations with Washington when Biden took office in January and vowed to reverse the harsh policies of his predecessor, Donald Trump.