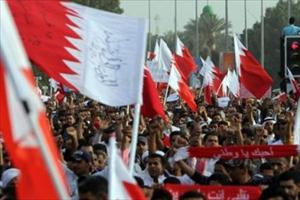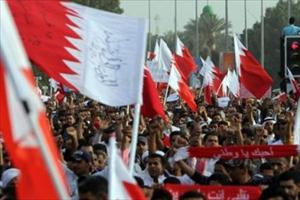 Bahrain Forum for Human Rights held its second "International Conference to Support Democracy and Human Rights in Bahrain" in Beirut, with international legal and media figures, members of government and parliamentary from Lebanon, the Islamic and Arab world, among other countries attending the event.
The organizers held slogans of: "Bahrain a sectarian regime, but no sectarian demands," and "Organizations admit Bahrain with no public right."
In addition, a small documentary was screened exposing the unjust arrests that Bahrainis consistently suffer, chasing down protestors with cars, severely beating Bahrainis, destroying houses, and displaying slides of martyrs and injured. The reportage further stated that the Bassiouni Report on Bahrain did not change the regime's severe oppression.
In this context, Head of The Bahrain Forum for Human Rights Youssef Rabie accentuated during the conference opening that, "Support Democracy and Human Rights was a title chosen for its constitutional right and international guarantee, and it is the base of the Bahraini movement away from media mislead."
Rabie mentioned, "There are more than 400 martyrs and 54 ruined and vandalized mosques and worship places, many laid off work, political oppressive verdicts, student expulsion, abuse of human dignity, and summoning Saudi forces."
For his part, member of Loyalty to the Resistance Bloc MP Nawwar Saheli reiterated that "organizations and human rights associations worldwide are politicized and biased," wondering, "where these associations are during Bahrain's events?"
"The world must listen to the mass majority of the Bahrainis and not a mere sect, and it must oblige the Bahraini government to include the oppressed majority in ruling on democratic basis," Saheli added.
Moreover, Imam of al-Quds Mosque in Sidon Maher Hammoud accentuated in an interview with al-Ahed News website that "this conference must be supported by everyone," indicating that "there are more than 50% of the Bahraini people who demand basic rights, however the regime takes sectarianism as an excuse to not meet their demands."
Furthermore, the Bahraini opposition abroad Sheikh Hussein Haddad told al-Ahed News website that, "all conferences organized by the abroad Bahraini opposition are weapons to demand Bahraini rights," indicating that "the conference, in participation of international representatives, conveys a message to the world of the Bahraini oppression and exposes major facts occurring in Bahrain."
Under the sight of the Arab League, the Islamic Organization Conference, and the US, who always speak of human rights and democracy, the Bahraini regime still oppresses innocent civilians who demand the least of human rights, kills peaceful protestors, arrests legal activists, postpones detainees' trials, as well as arrests and assaults innocent children.