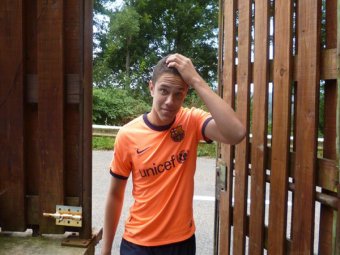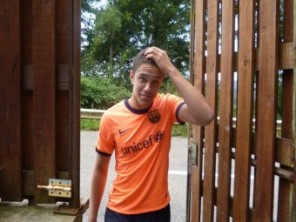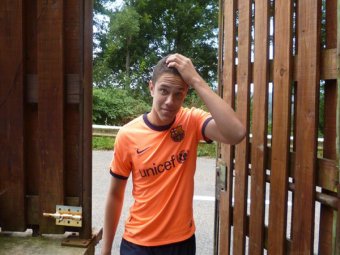 "Time Magazine" the American published a report of the story of a young Belgian nationality, Brian De Mulder, who traveled to Syria from his hometown of Antwerp in Belgium to fight alongside the armed groups.
The Magazine recounted that Mulder had dreamed of becoming a professional football player, had it not shocked by excluding him by the management of the club that he was playing in.
Then he met a number of young Moroccans, who invited him to play with them to fill the new space. Brian began to go with this group of the mosque and named him (Ibrahim) and made him convert to Islam and changed his name to (Abu al-Qasim Brazili).
After this changes accelerated in the life of Brian, where he left school three months before receiving a certificate, in his eighteenth birthday, began to learn the basics of the Arabic language and began to pray.
At the beginning of 2011 began to dismiss non-Muslim friends gradually until he deleted them from his page on Facebook.
Brian's aunt (Ingrid de Mulder) said that until that moment his actions were not strange, because he was asking questions unusual about God or philosophical questions again so that his remarks about the dress of his mother and sister were not surprising, being from a family of liberal, but after he knew one of his neighbors and his name (Mohammed) on a group name (Sharia for Belgium), a fundamentalist (Salafist) group and its leader is (Fouad Belkacem), also known with his extremist trends, in addition to that he is of Moroccan descent.
This group is seeking to recruit young people and send them to Syria to fight against the Syrian government.
His aunt Ingrid told the newspaper that the network Belkacem: "programmed Brian and turned him into a robot, we expected heading for jihad and tried to stop him but we could not, before that he was studious to read the Koran, and in fact did not read it all, but he read only the verses that dictated by (Belkacem)."
In the middle of January, Brian left and wrote to his family: "I love you but you will not see me again."
His family Searched for him and found that he had traveled a trip from Dusseldorf to Istanbul in 23 of the same month, and then have begun search in videos displayed on site (YouTube) and they found him in one, where it appeared Brian among a group of fighters, the Free Army, they put their arms down and getting ready to pray.
Since 2011 until now, according to what the experts said, that more than 60,000 foreigners are fighting in the ranks of the opposition, mostly from Egypt, Tunisia, Libya and Saudi Arabia, and that 10 percent of them from Western countries.
Before Brian there was another victim of teenagers and named Gijon Pontiac from the same town of Brian and his father made ​​a trip to the city of Aleppo to look for him but to no avail.
Apparently, the America magazine says, both are now standing united in their fight against the Syrian government as observers said, they were with a lot of their ilk have fallen under the influence of "al-Nusra Front mantra ", and constitutes both young men a practical example for a radical change, which is subject to teenagers people with fragile and personal thought that can easily influence.
The magazine continues in its analysis, if both – Bryan Gijon – felt marginalized by society, and suffered difficulties in coexistence, where pouring all these problems in an external dispute irrelevant through molding their personalities to fit the objectives of those extremist groups, and of course Syria now is the current objective.
The magazine adds that the longer this conflict increased the enthusiasm of these groups to pump more foreign children into the conflict to fight alongside them, where the Internet accelerated this process especially that young people are watching current events continuously driven with ripe curiosity to take any initiative towards what they see.
A recent report of the University, "King's College" in London confirms that about 600 European traveled to Syria to fight, said Aaron Zelin of the Washington Institute for East Policy: "This is the fastest movement of foreigners, especially from the West to the internal conflict".
University report adds that "if this conflict extended, a Corps of foreigners will be created, may be comparable to the foreign legions that fought in Iraq, which amounting to 10,000 foreigners in six months".