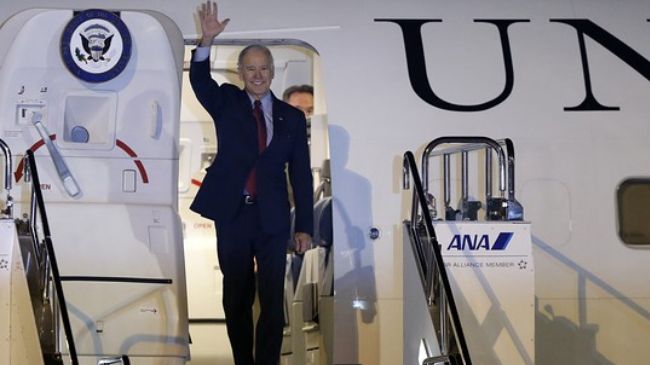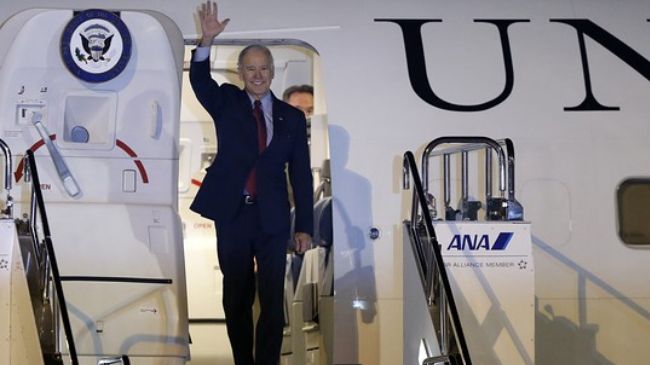 US Vice President Joe Biden has travelled to Japan as tensions rise between the US Asian ally and rival China after Beijing announced more than a week ago a new air defense zone in the East China Sea that includes disputed islands also claimed by Tokyo.
Reuters reported Tuesday that Biden urged Japanese and Chinese authorities to lower the tensions but that the US official expressed deep concerns over the new move.
"We remain deeply concerned by the announcement of a new Air Defense Identification Zone," Biden said in written answers to the Asahi daily newspaper.
The United States has said it would stand by treaty obligations that would require it to defend the Japanese-controlled islands, but is also reluctant to get dragged into any military clash between the Asian rivals, the report said.
The US and Japan have made a public show of unity following China's demand that all aircraft passing over the disputed zone identify themselves to Beijing. American and Japanese aviation authorities are adopting divergent positions over whether civilian flights should comply with the Chinese demand.
Biden is scheduled to meet Japanese Prime Minister Shinzo Abe later on Tuesday before flying to China the next day as part of an Asian trip.
His trip comes a day after two of US Navy's new P-8A Poseidon reconnaissance aircraft arrived in Okinawa. The US Navy has said another four P-8s will arrive in the Japanese island during the next few weeks.
Defying China's demand that all aircraft flying over the new zone should provide full flight plans, two American B-52 bombers entered on Nov. 25 the air defense zone without informing the Chinese government.
In response, China sent its sole aircraft carrier to the South China Sea, forcing the Obama administration to advise its commercial airlines to abide by China's newly declared air defense zone even though the US government has not recognized it. The Chinese warship, Liaoning, was accompanied by two missile destroyers, the Shenyang and Shijiazhuang, and two missile frigates, the Yantai and Weifang.
The US advice to its airlines reflects fears that rising tensions could escalate into a real conflict in which the Obama administration would have to intervene on behalf of allied Japan.
The US has seen itself as the dominant power in Asia for long years and is now concerned about China's growing influence in the region. Chinese officials however, say the zone is in line with the practice of other nations that have similar zones to protect their coasts.