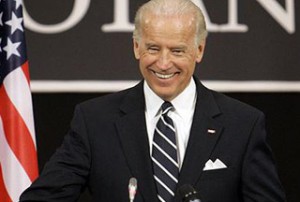 US Vice President Joe Biden has announced an appeal into a US court decision to drop charges against Blackwater/XE mercenaries accused of killing 14 Iraqi civilians in 2007.
"A dismissal is not an acquittal," Biden told reporters during a visit to Baghdad on Saturday, referring to the case involving five guards employed by the private company Xe, which was formerly known as Blackwater, AFP reported.
"Today I am announcing that the United States government will appeal this decision. Our Justice Department will file that appeal next week," he said.
The five guards, who had been part of a convoy of armored vehicles, had been charged with killing the civilians and wounding 18 others in an attack using guns and grenades at Baghdad's busy Nisur Square in September 2007.
Charges against the Blackwater/Xe employees were dismissed on December 31, 2009, when a judge ruled US prosecutors violated their rights by using incriminating statements they had made under immunity during a State Department probe.
The ruling outraged the Iraqi government, which maintains that 17 people were killed in the incident.
Blackwater announced on February 13, 2009 that it would henceforth operate under the new name Xe Services LLC, but it is often still referred to as Blackwater or sometimes as Blackwater/Xe.