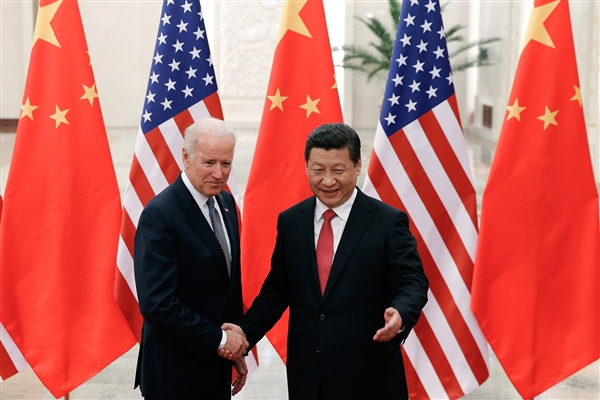 US Vice President Joe Biden on Wednesday had a five-hour meeting with Chinese President Xi Jinping in Beijing to resolve the rising tensions over China's declaration for a new air defense zone in the East China Sea. However, the dispute remained unresolved at the end of the meeting, US officials said.
During his two-day visit to Beijing, Biden pressed the point that the White House "doesn't recognize" the zone and urged the Chinese government to avoid actions that could lead to confrontations with Japan, which also claims islands in the disputed region, the Wall Street Journal reported, citing US officials.
"From our perspective, it's up to China. And we'll see how things unfold in the coming days and weeks," said an official, briefing reporters in Beijing after the meeting.
Speaking at a gathering of US executives in Beijing, Biden said: "China's recent and sudden announcement of the establishment of a new air defense identification zone has, to state the obvious, caused significant apprehension in the region."
"I was very direct about our firm position and our expectations in my conversations with President Xi," he stated.
Biden sought to end a crisis that has rattled regional US allies – Japan and South Korea – and created a new point of confrontation between the US and China. According to the Journal citing people close to Biden, the US vice president has forged a strong relationship with the Chinese president over the years, and brought those ties to bear in the meeting.
Some analysts in the US believe that Washington must take a "stronger" stance towards Beijing regarding the recent case.
"He [Biden] did well according to normal diplomatic protocol, but this wasn't a normal diplomatic situation," said Michael Auslin, director of Japan Studies at the American Enterprise Institute. "Our allies were hoping for something much stronger, and I think they're probably going to feel that they're going to be on their own."
After the Wednesday meeting, US officials said Xi made no commitment to rolling back the zone. Rather, he indicated he would "take on board" Mr. Biden's requests, according to the newspaper.
The US has seen itself as the dominant power in Asia for long years and is now worried about China's growing influence in the region. Chinese officials however, say the zone is in line with the practice of other nations that have similar zones to protect their coasts.
Before his China visit, Biden travelled to Tokyo and met with top Japanese officials. He heads to South Korea later on Thursday.