Middle East
Saudi Arabia
Bin Salman preparing new charges to seek $15bn settlement from ex-rival: Report
Saudi Crown Prince Mohammed bin Salman (MBS) is revealed to be preparing a set of corruption and disloyalty charges against his predecessor and onetime rival, Mohammed bin Nayef (MBN), to demand a $15-billion settlement from the detained prince.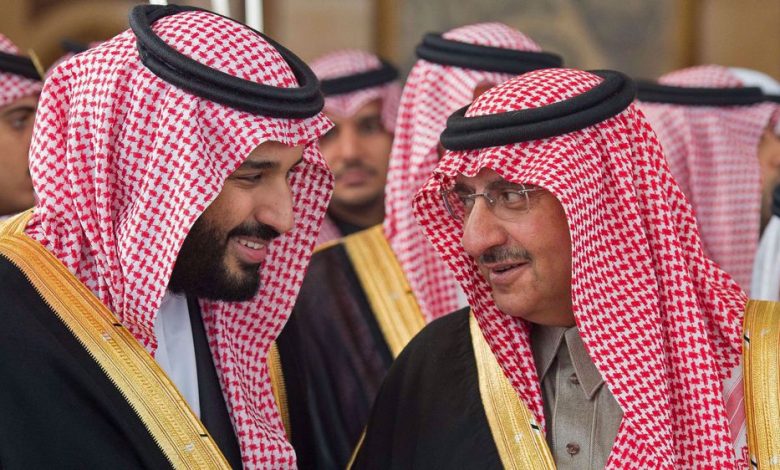 In an article published on Monday, The Washington Post quoted Saudi and US sources as saying that bin Salman's "anti-corruption committee" was nearing completion of an investigation into allegations that bin Nayef had "improperly diverted" billions of Saudi riyals through a network of front companies and private accounts while he was running counter-terrorism programs at the Interior Ministry.
Bin Nayef became assistant interior minister in 1999 and succeeded his father as interior minister in 2012 following his death.
He was named crown prince after King Salman bin Abdulaziz Al Saud acceded to power in 2015, before being replaced by bin Salman in 2017.
Since his ouster, bin Nayef has effectively been under house arrest and prevented from leaving the kingdom.
In March, he was arrested as part of a renewed purge of royal family members over an alleged coup attempt to unseat King Salman and his son.
"What's troubling about his arrest and possible prosecution of MBN is that he (MBS) may be using the corruption issue to destroy a rival," the report said.
Meanwhile, an associate of bin Nayef told The Washington Post that Saudi investigators have demanded that he repay the $15 billion "he stole."
"This royal family showdown has been building ever since MBS…deposed his predecessor in June 2017. The roots lie even deeper, in the bitter rivalry between supporters of the late King Abdullah, who had championed MBN,…and the courtiers who surrounded his successor, King Salman, and his impulsive son MBS, when the new king assumed power after Abdullah's death in January 2015," the report said.
Friends of bin Nayef contest the charges being prepared against him, noting that his activities at the Saudi Interior Ministry were authorized by a 2007 royal decree.
The decree, signed by then Abdullah bin Abdulaziz Al Saud, references a secret fund managed by bin Nayef and allows him to create "appropriate vehicles in the private sector" to disguise sensitive activities.
Bin Nayef was also to "brief us at the end of every fiscal year" about spending from the fund, according to the royal decree, which affirmed all previous counter-terrorism spending had been approved.
Meanwhile, John Brennan, a former CIA director who worked closely with bin Nayef for more than a decade, said the prince was one of former king Abdullah's "favorites."
"Over the course of my interaction with MBN, he wasn't someone I thought was engaged in corrupt activity or was siphoning off money," he added.
Bin Nayef's top aide, Saad al-Jabri, was fired by King Salman in September 2015. He fled the kingdom in May 2017.
A month later, bin Nayef was summoned by the monarch and told to resign.
Bin Nayef "asked to call two prominent princes, Mohammed bin Fahd and Khaled bin Sultan, the MBN associate said. They told him the game was up, they'd made their deals his rival and MBN had no choice but to resign as crown prince," according to the report.
It also stressed that the squeeze on the former crown prince tightened when his wife and daughters were banned from travel abroad and the authorities seized $5.6 billion in his liquid family assets.
"The last chapters of MBN's story have a sad inevitability: He simply wasn't a match for MBS in his ability to protect his friends and punish his enemies," the report pointed out.
A few months after bin Salman assumed power in 2017, he rounded up hundreds of wealthy princes and businessmen at Ritz-Carlton Hotel in the Saudi capital, Riyadh.
He demanded that they turn over large sums of their wealth as part of an alleged "anti-corruption campaign," which observers said was meant to consolidate the crown prince's grip on power and silence his critics.