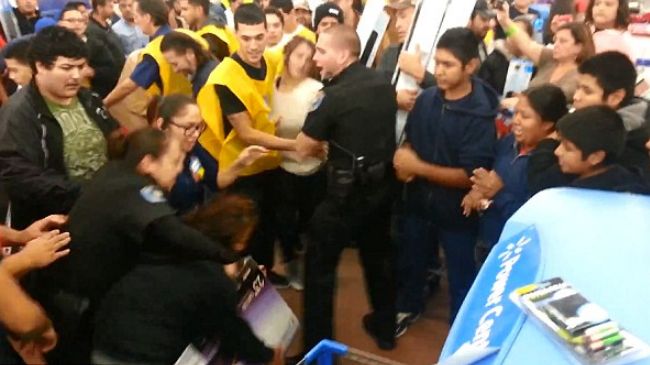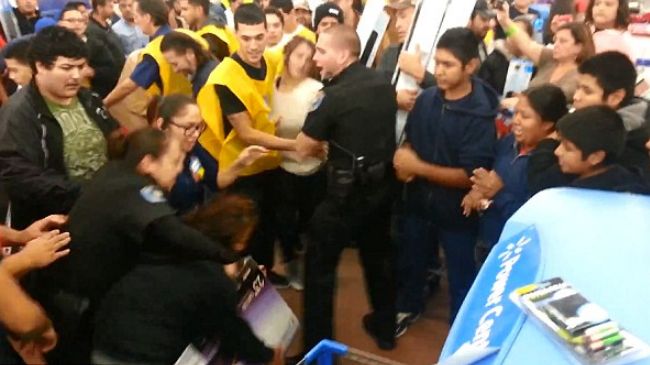 A number of violent crimes have been reported as American shoppers were trying to buy cut-price products during the annual Black Friday shopping sales across the United States.
People posted photos and videos of shoppers getting violent at Walmart stores on Friday, according to US media.
A shopper in Las Vegas was shot by a passerby when he was walking down the street with a big screen TV he had purchased shortly after midnight.
In another incident in Chicago, a man accused of attempting to shoplift from a store fled to his car, trapping a police officer's arm in the door and taking off, prompting police to fire shots at his vehicle.
A man in Virginia was stabbed at Walmart during an argument over a parking spot before many Americans had even finished eating Thanksgiving dinner. Two men were arrested after the incident.
Police in Rialto, Calif., endured injuries when breaking up a brawl outside Walmart.
At a Walmart in Southern California, a police officer was injured trying to break up a melee after a manager decided to open his doors early.
Several video footages were released, showing desperate shoppers elbow each other to get their hands on cut-price stuff at Walmarts.
"Walmart is like a war zone," one Twitter user wrote. "Fight to the death to get the s*** you want."
"I have never felt more shame for humanity than I do right now watching people in Walmart fight over a tv, Alabama bookbag & a $14 blender," another user said.
Walmart spokesperson Brooke Buchanan said such violent incidents do not accurately depict the retailer's successful day.
"We've got great feedback from customers and associates across the country," Buchanan said. "A few tweets aren't representative of what's actually happening at 4,600 stores."
At a Walmart store in Garfield, New Jersey, police had to pepper spray and then arrest a man after he argued with a store manager, and then became "belligerent" over a television.
Meanwhile, a man said he was kicked out of a Walmart store for shooting video of a fight among shoppers.
Kayla Whaling, a spokeswoman for Walmart, said Friday said the company was reviewing the incident.