Syria
Blasphemy Block G20 deeply divided over Syria war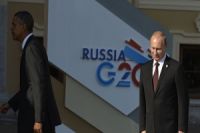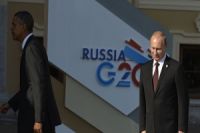 The Group of 20 developed and developing economies has discussed the Syrian crisis at its summit in Russia, but failed to reach a consensus over the US plans for an attack on Syria.
The first day of the G20 summit was held in St. Petersburg on Thursday.
While US President Barack Obama is using the meeting to push for his strike plan, the European Union, and the BRICS emerging economies (Brazil, Russia, India, China and South Africa) as well as Pope Francis – in a letter – warned against the dangers of a US military strike on Syria.
Chinese Deputy Finance Minister Zhu Guangyao said, "Military action would have a negative impact on the global economy, especially on the oil price – it will cause a hike in the oil price."
UN Secretary General Ban Ki-moon is also in St. Petersburg to push for diplomacy rather than military option regarding Syria.
Ban said: "Let us remember: every day that we lose is a day when scores of innocent civilians die. There is no military solution."
German Chancellor Angela Merkel has also ruled out Germany's participation in a military strike against Syria.