Pakistan
Blast hits Pakistan school van, kills 6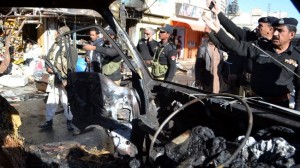 A bomb explosion targeting a school van carrying students and teachers in northwestern Pakistan has claimed the lives of at least six people.
According to local media reports, three female teachers and two students were among those killed in the roadside bomb blast in the northwestern tribal area of Bajaur Agency early Tuesday.
A number of others were also wounded in the attack, which was carried out in the town of Salarzai.
Officials along the border with neighboring Afghanistan say the vehicle was targeted by a remote-controlled explosive device planted along the road.
Schools in Pakistan have come under increasing attacks by pro-Taliban militants over the past several years. Official data show that around 109 Pakistani schools have been targeted by bomb explosions since 2007.
The militants have increased their attacks on civilians and security forces and managed to spread their influence in various regions of the country despite sporadic offensives by the Pakistani army.
Thousands of Pakistanis have lost their lives in bombings and other militant attacks since 2001, when Islamabad entered an alliance with Washington in the so-called war on terror.