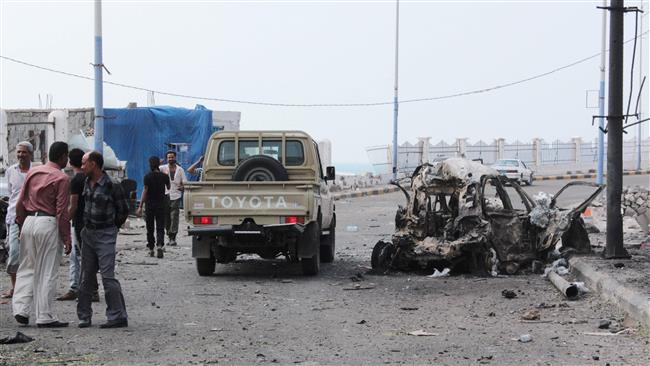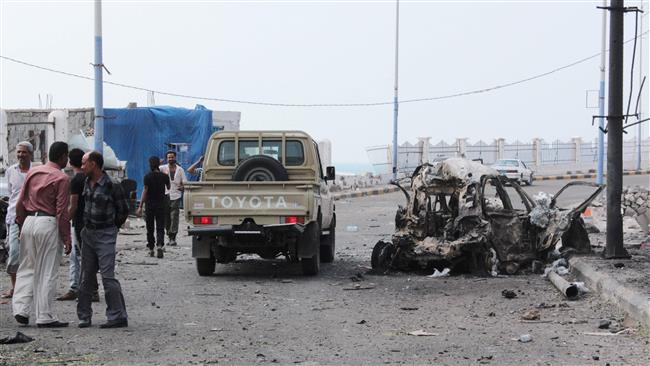 At least three people have been killed and three others injured in a blast in the province of Aden in southern Yemen.
Two attackers and a pedestrian were killed in the blast in Dar Saad district of Aden on Wednesday, according to Yemen's al-Omanaa.net.
The blast occurred as an explosive belt that one of attackers, identified as Walid al-Namis, was wearing went off before the motorcycle he was riding with another unidentified person approached the house of a leader of the Southern Movement, which is opposed to the Saudi aggression of Yemen, in Dar Saad.
Yemeni sources said Daesh and al-Qaeda terrorist groups who are holding parts of southern Yemen might be behind this attack.
The news comes as one of the leaders of the Southern Movement has said the Saudi aggressors support al-Qaeda terrorists for taking control of the southern Yemeni provinces.
Saudi Arabia launched its military aggression against Yemen in late March last year in a bid to bring the country's fugitive former president, Abd Rabbuh Mansur Hadi, a Riyadh ally, back to power and undermine the Houthi Ansarullah movement.
Over 8,400 people have been killed and 16,015 others injured since the onset of the aggression. The strikes have also taken a heavy toll on the country's facilities and infrastructure, destroying many hospitals, schools, and factories.