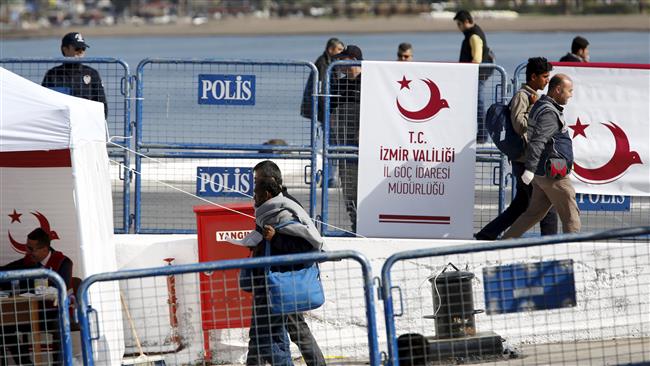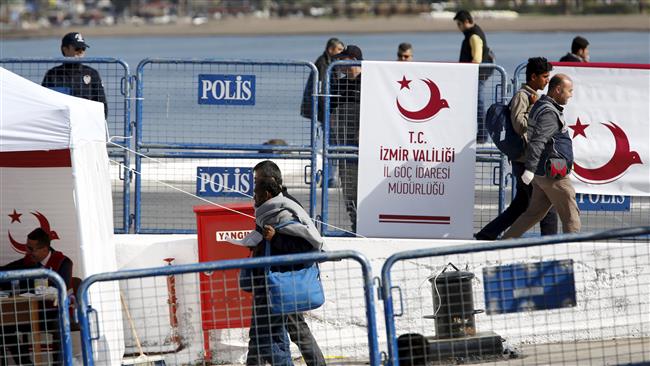 A passenger boat carrying dozens of refugees from Greece has arrived in Turkey, whose territory the asylum-seekers had used to reach Europe, as part of an agreement signed between the Turkish government and the European Union (EU).
The boat set sail from the Greek island of Lesbos for the Turkish coastal town of Dikili early on Monday and docked in Turkey later in the day.
Another boat is also expected to arrive in Dikili on Monday.
When both vessels complete their mission, they will have returned to Turkey 131 refugees and asylum seekers under a deal signed between the EU and Ankara last month.
Under the agreement, Ankara agreed to take back all the asylum seekers and refugees – including the Syrians – who had used its territory to illegally reach Greece in return for a number of commitments from the EU.
One such commitment is that the EU will take in one Syrian refugee directly from Turkish refugee camps in return for every Syrian the bloc returns to Turkey, with a cap at 72,000 asylum-seekers.
For non-Syrians, the route to Europe is entirely cut off.
Leaders from EU member states, who met with Turkish Prime Minister Ahmet Davutoglu on November 29, 2015, also pledged to provide €3 billion ($3.19 billion) to Turkey to help it handle more than two million refugees in the country.
EU leaders also promised to open fresh negotiations on Turkey's accession process to the union, and to reward Turkish citizens with visa free access to the Schengen zone.
The United Nations human rights chief has voiced concern about the, saying it could lead to "collective expulsions" of war-hit people in violation of international law.
UN High Commissioner for Human Rights Zeid Ra'ad Al Hussein said on Thursday that there was a contradiction in the agreement between the declared aim to return all refugees and assurances that individual claims for asylum would be assessed.
"Disturbingly, there have also been recent reports of forcible returns amounting to refoulement from Turkey," Zeid said in a statement. The term "refoulement" refers to the illegal forced return of refugees facing conflict or persecution in their homelands.
Officials in Athens say Greece will send some 750 refugees and asylum seekers back to Turkey. The ANA state news agency said in a report on Saturday that the transfer of refugees from Greek islands of Lesbos and Chios to the Turkish port town of Dikili will last until Wednesday.
Meanwhile, residents in Dikili, who are not happy with the arrival of the refugees, staged a demonstration on Saturday to voice their opposition to the planned construction of a refugee camp in the area.
"Now the local population is 45,000, but in the summer, it rises to 250,000 to 300,000. With an additional refugee camp, there won't be enough room," a Dikili resident said.
"This is a tourist place. We will not be able to swim freely. This will take away our personal freedom. We won't be able to send our children out or to swim on their own. They could have asked the locals in Dikili if they accepted this, even if it was to be temporary. They are obligated to ask us," another local commented.
Europe is facing an unprecedented influx of refugees who are fleeing conflict-ridden zones in Africa and the Middle East, particularly Syria.
Many blame major European powers for the unprecedented exodus, saying their policies have led to a surge in terrorism and war in those regions, forcing more people to flee their homes.