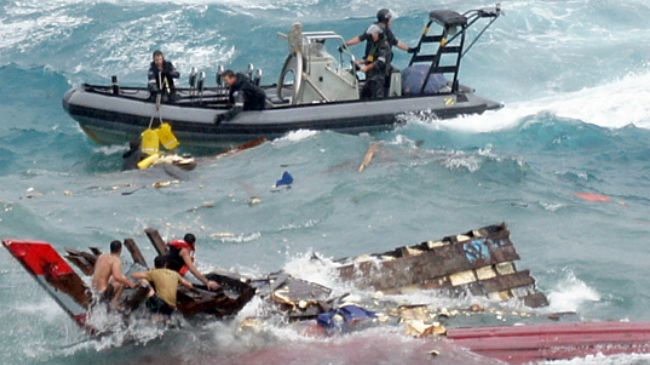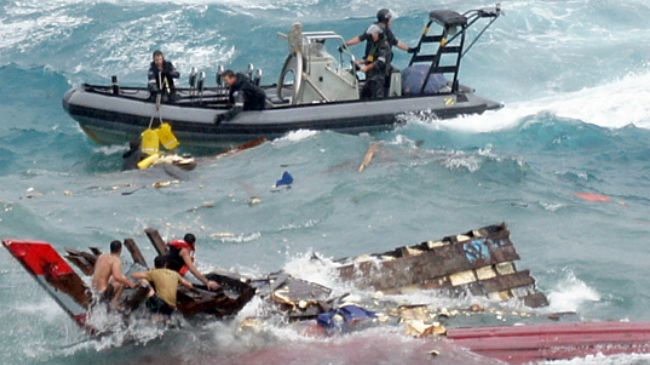 A boat transporting nearly 100 asylum-seekers has gone down in north of Australia's Christmas Island, leaving one person dead.
Australian authorities have launched a search in the remote seas for survivors on Saturday, with 88 people rescued so far.
Australian Home Affairs Minister Jason Clare said the boat initially issued a distress call in seas north of the island, between Australia and Indonesia, on Friday morning.
He added that rescuers could not get to the scene until 10:00 p.m. (1200 GMT) while a short time later the boat faced a giant wave which caused it to sink.
"Last night our officers have rescued 88 people and they've recovered the body of a little baby boy," Clare told reporters.
"The advice to me is that there were 97 people on board and a search and rescue effort is happening right now," he further said.
Two navy patrol boats and a merchant ship as well as a military aircraft and two maritime rescue planes were searching the seas 87 nautical miles north of Christmas Island.
The 88 people who were saved have been sent to immigration detention on the island, Clare noted.
On June 8, over a dozen people were found dead following an incident where a boat carrying asylum-seekers sank off Christmas Island.
The Friday incident was the latest in a series of refugee boat disasters in recent years. Most of the vessels are from Indonesia, and they are poorly maintained and overloaded, carrying migrants in search of a better life in Australia.
Indonesia suffers from a weak and unsafe naval transportation network.
Since January 1, over 13,000 asylum-seekers have arrived in Australia by boat.