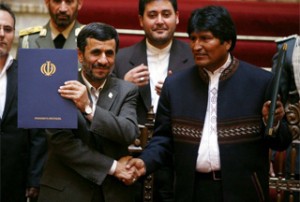 Bolivia's Vice Chancellor has dismissed US warnings against developing close ties with Iran, days after La Paz and Tehran vowed forging better relations.
"We are playing down these comments; a lot because we're talking about a message intended for the US public that defers from the comments that we hear internationally" Bolivian Vice-Chancellor Hugo Fernandez told reporters on Friday.
His quotes come as US Secretary of State Hillary Clinton warned Latin America against closer ties with Tehran.
Clinton also warned of more sanctions against Iran if it does not halt its nuclear energy program.
Bolivia and Iran have signed a declaration defending every nation's right to possess nuclear energy for peaceful means.
Following in Clinton's footsteps, White House Spokesman Robert Gibbs said Iran would face consequences if it does not comply with UN Security Council resolutions regarding its nuclear activities.
Iran insists that its nuclear program is for civilian purposes only and has rejected the resolutions as politically motivated.