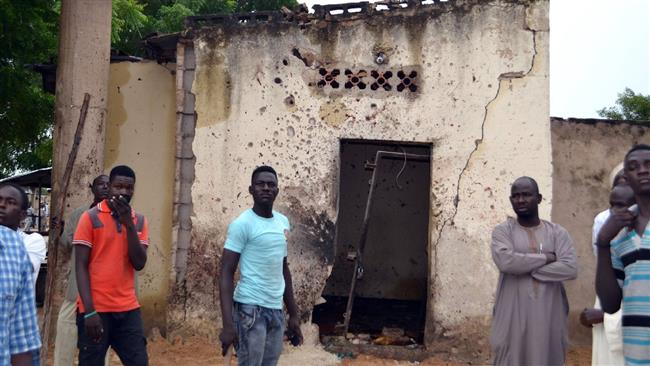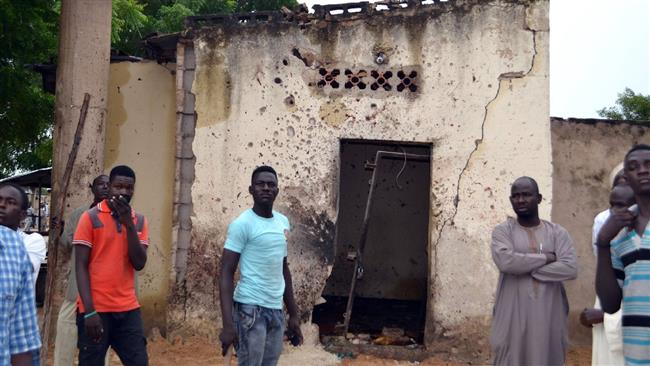 More than a dozen people have been killed in three separate bomb attacks in northeastern Nigeria.
Nigeria's National Emergency Management Agency (NEMA) said on Wednesday that the bombings were carried out in the town of Damaturu in the state of Yobe. At least 14 people died and ten others were injured.
According to Bashir Idris Garga, NEMA's coordinator for Yobe, four people were killed in the first attack at a food store.
One person was killed at another bombing near a mosque, while nine others lost their lives in the third attack on the outskirts of Damaturu.
No group or individual has claimed responsibility for the bombings, but the Takfiri Boko Haram terrorists have claimed similar assaults in the past.
Earlier in the day, the Nigerian army said its forces had foiled an attack which aimed to target a battalion of soldiers in Goniri, located about 60 kilometers (37 miles) southeast of Damaturu. The army said Nigerian soldiers managed to kill scores of militants in the confrontation.
"During the encounter our gallant troops successfully repelled the attack and inflicted heavy casualty on the invading terrorists as all of them were killed," said Nigerian army spokesman, Colonel Sani Usman.
On Tuesday, 11 Chadian soldiers were killed and over a dozen others wounded in an attack claimed by Boko Haram against positions of the forces across the border.
Boko Haram, which controls parts of northeastern Nigeria, started its militancy against the government in 2009. Soldiers from Chad, Cameroon, and Niger joined Nigerian forces in the battle against the terrorists after the violence spread across neighboring countries and became a regional issue.