Iraq
Bomb attacks kill 5 Iraqi policemen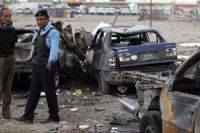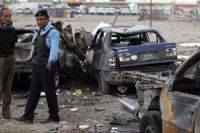 At least five Iraqi policemen have been killed and nine others wounded in coordinated bomb attacks, which involved two explosions and subsequent gunfire in the central Iraqi city of Fallujah.
According to AFP quoting Iraqi officials, the attacks occurred on Monday, when a bomber detonated his explosives-laden belt at the main checkpoint outside police headquarters in Iraq's longtime militant stronghold of Fallujah.
The second bomber blew himself up near the building's gates as a shootout broke out between security forces and a number of gunmen, who later fled the scene.
A medical official speaking on condition of anonymity confirmed the casualty figures.
No group has so far claimed responsibility for the attacks, but Iraqi al-Qaeda, which frequently carries out coordinated bombings, is believed to be behind the attacks.