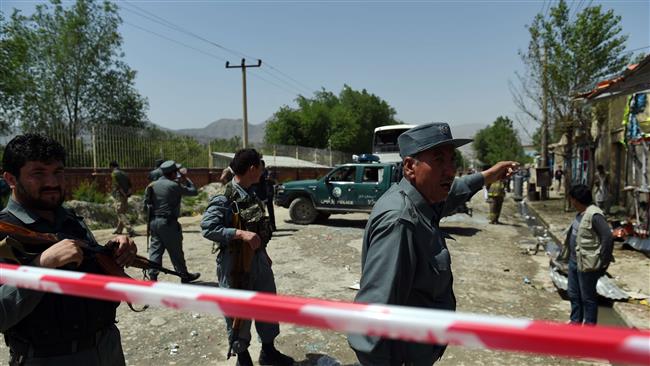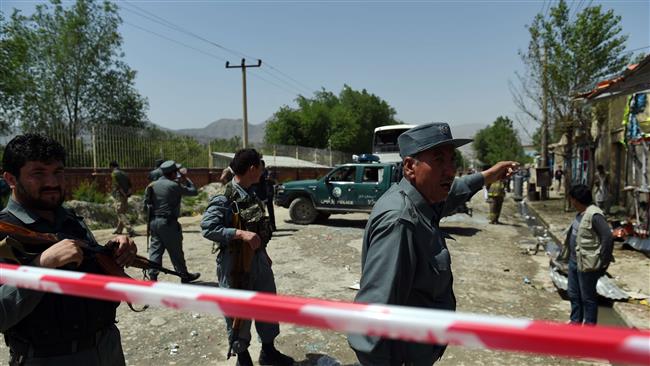 At least five policemen have been killed and three others injured in a powerful bomb explosion that destroyed their vehicle in Afghanistan's central-eastern province of Ghazni, Press TV reports.
Asadullah Ensafi, the deputy chief police in Ghazni Province, said that the casualties happened when a roadside bomb struck a vehicle packed with security personnel in the city of Ghazni, located about 150 kilometers (95 miles) southwest of the Afghan capital, Kabul, on Thursday morning.
No individual or group has claimed responsibility for the act of terror so far. However, Ensafi says authorities believe that the Taliban militants are behind the attack.
This comes a day after a roadside bomb explosion claimed the lives of at least four children in the troubled northeastern Kunduz Province on Wednesday.
Explosions caused by roadside bombs and improvised explosive devices (IEDs) are by far the most lethal weapons Taliban militants use against Afghan forces, foreign troops and civilians.
Nearly 100 militants killed in 2 days
Also Thursday, Afghanistan's Ministry of Defense said in a statement that Afghan army soldiers have killed at least 94 Taliban militants in a series of clean-up operations carried out across the war-torn country over the past 48 hours. Arab nationals are also among the dead.
Some 76 other militants have also been wounded, according to the statement. Weapons of the terrorists have been also seized.
According to the statement, at least a dozen Afghan army troops were also  killed by roadside bombs and other Taliban attacks.
The statement of the ministry has described the operations as a big success for the Afghan military.
Taliban commanders defect to Daesh
In a separate development, Afghan Ambassador to Pakistan Janan Mosazai, has announced that many Taliban commanders have joined the Daesh terrorist group in Afghanistan. Mosazai made the remarks after meeting with key Pakistani officials who are involved in brokering peace talks between Kabul and the Taliban.
Sources say Taliban commanders joined Daesh after serious rifts emerged within the Taliban leadership.
Taliban leader Mullah Akhtar Mohammad Mansour, who succeeded Mullah Omar as Taliban leader this summer, has sent hundreds of fighters on motorcycles in the past two weeks to Zabul province to battle forces loyal to senior Taliban military commander Mullah Mansour Dadullah, who has publicly refused to pledge allegiance to the new leader.
Afghan forces and foreign troops have failed to maintain security across Afghanistan nearly 14 years after the United States and its NATO allies invaded the country as part of Washington's so-called war on terror.