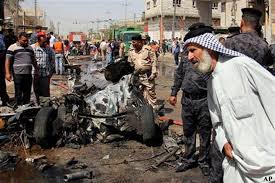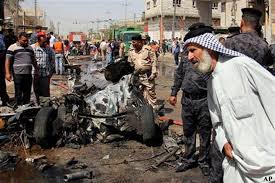 A series of explosions killed 33 people and wounded more than 40 at a political organization's rally in Iraq on Friday, police and medical sources said.
The group Asaib Ahl Haq (League of the Righteous) was presenting its candidates for elections on April 30 at the rally in eastern Baghdad. Three bombs exploded in succession as people were leaving.
A roadside bomb went off near the main gate, followed by a suicide car bomb after a few minutes and then a final explosion.
Al Qaeda offshoot the Islamic State of Iraq and the Levant (ISIL) claimed responsibility for the attack in a statement posted on the Internet.
Asaib's main leader Sheik Qais Khazaali had just delivered a speech accusing some politicians of aiding terrorism and vowed his movement was ready for any action by ISIL.
"To all ISIL … we are ready. We are prepared," he said. "We are the defenders of this country. You will never reach us."
He added: "If ISIL is the sickness, were are the medicine."
The attack came as tensions ran high in Iraq in the run-up to a national election on April 30 and as the Iraqi security forces are locked in a four-month battle with ISIL in western Anbar province.