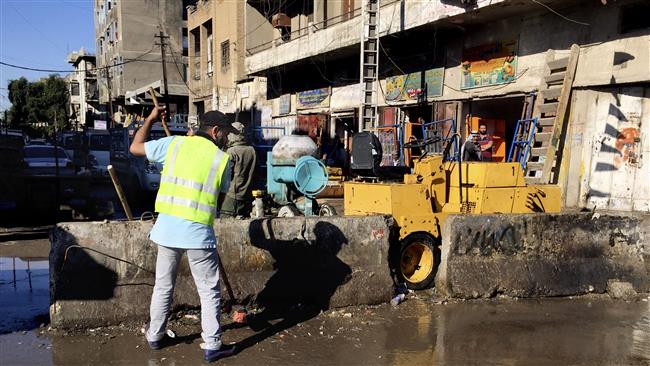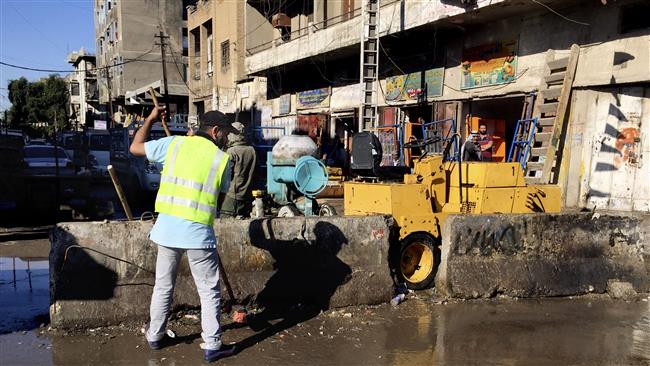 Medical and security officials in Iraq say at least 23 people were killed and more than two dozen others injured in a series of bomb explosions, a shooting attack and shelling across Iraq.
A security source, speaking on condition of anonymity, said five people lost their lives and nine others sustained injuries when bomber detonated his explosive-laden vest near a psychiatric hospital in Sadr City, the mainly Shia district of eastern Baghdad, on Monday, Arabic-language al-Baghdadia satellite television network reported.
Security forces immediately cordoned off the site of the attack, and ambulance workers ferried the wounded to a nearby hospital.
Unidentified armed men also sprayed a Muslim cleric with bullets in the capital's southwestern neighborhood of Hayy al-A'amel, killing him on the spot.
Elsewhere in al-Nasr Wal Salam city, which is also known as al-Hasuah and lies in the Abu Ghraib district of western Baghdad, mortar shells fired by Takfiri militants claimed two civilian lives and left eight others wounded.
A soldier was also killed and two others injured on Monday, when a roadside bomb went off in Baghdad's southeastern neighborhood of Arab Jabour.
Separately, five members of the Popular Mobilization Units lost their lives and seven others sustained injuries when a car bomb attack struck the town of Tarmiyah, situated about 50 kilometers (30 miles) north of Baghdad.
A car bomb went off in the center of Iraq's largest city of Basra, killing five people.
Additionally, a man wearing an explosive belt blew himself up in the middle of a crowd of Popular Mobilization Fighters outside a restaurant in the southern city of Nassiriya, located 320 kilometers southeast of Baghdad, killing four.
The United Nations Assistance Mission for Iraq says a total of 1,119 Iraqis were killed and another 1,561 wounded in acts of terrorism, violence and armed conflict in March.
According to the UN mission, the number of civilian fatalities stood at 575. Violence also claimed the lives of 544 members of the Iraqi security forces. A great portion of the fatalities was recorded in Baghdad, where 259 civilians were killed.
The northern and western parts of Iraq have been plagued by violence ever since Daesh Takfiri militants began their march through the Iraqi territory in June 2014.
Army soldiers and Popular Mobilization Units have joined forces and are seeking to take back militant-held regions in joint operations.