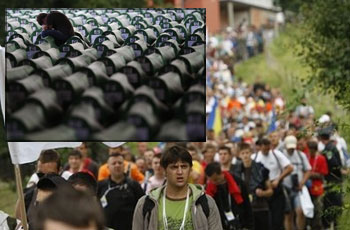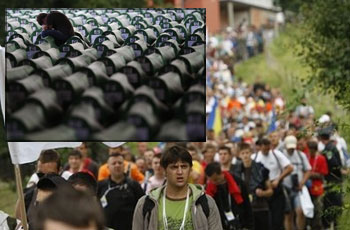 Tens of thousands on Sunday mark 15 years since the Srebrenica massacre of nearly 8,000 Muslims by Bosnian Serbs.
A special ceremony at the Potocari cemetery near Srebrenica, attended notably by Serbian President Boris Tadic and Turkish Prime Minister Recep Tayyip Erdogan, will include the burial of 775 recently identified victims who will join the 3,749 already there.
On Saturday emotions ran high in the graveyard as the hundreds of coffins of those due to be buried arrived. In the hot midday sun a line of men formed to pass the coffins to the front.
On a small incline overlooking the cemetery Ekrem Muhic sat with his family. He arrived in Potocari after hiking for three days through the woods with a group of around 5,000 people who retraced the path of the men and boys who fled the enclave ahead of the advancing Serb troops.
"I walked for my brother who will be buried (Sunday). I walked in his place. We left together from Srebrenica but he didn't come back and I made it," he said.
Nearly 8,000 Bosnian Muslim men and boys were systematically killed in the days following the fall of the Srebrenica enclave, as UN peacekeepers were watching idle by, to Bosnian Serb troops on July 11, 1995.
The victims were shot and interred in mass graves, then reburied haphazardly later in more than 70 sites in a bid to cover up the evidence.
The bones, exhumed by forensic experts over the last few years, were buried in Potocari after identification by DNA testing.
To date, the remains of nearly 6,500 people have been identified, some of them found in more than one grave, but many families are waiting to bury them in the hope that more bones, or those of another relative, will turn up.
Hasan and Suhra Mahic both in their eighties will finally bury their sons Fuad and Suad together on Sunday.
"I would have preferred that all of us have been killed together, then we would not have had to live through this," Hasan told AFP.