General
Boston blast a US police mess?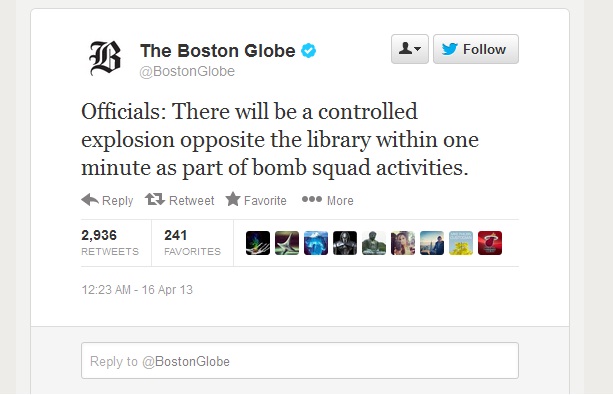 Unofficial accounts show that Boston blasts has been an outcome of the US police miscalculation of controlled explosions to be carried out in maneuvers in the region.
According to Mehr News Agency, quoting the Local 15, University of Mobile's Cross Country Coach, who was near the finish line of the Boston Marathon when a series of explosions went off, said he thought it was odd there were bomb sniffing dogs at the start and finish lines.

"They kept making announcements to the participants do not worry, it's just a training exercise," Coach Ali Stevenson told Local 15.

Stevenson said he saw law enforcement spotters on the roofs at the start of the race. He's been in plenty of marathons in Chicago, D.C., Chicago, London and other major metropolitan areas but has never seen that level of security before.

Photo published by the American users consider the blasts caused by the police misstep
"Evidently, I don't believe they were just having a training exercise," Stevenson said. "I think they must have had some sort of threat or suspicion called in."
CNN reports a state government official said there were no credible threats before the race.
The photo of a tweet posted by the Boston Globe  notes that in a few minutes, there will be some explosions as part of the announced bomb squad activities.
Stevenson had just finished the marathon before the explosions. Stevenson said his wife had been sitting in one of the seating sections where an explosion went off, but thankfully she left her seat and was walking to meet up with him.
"We are just so thankful right now," Stevenson said.
The US social networks users had it that a maneuver has been carried out in the vicinity of the place the explosion rocked the city, and 'controlled explosions' were to be carried out. But it seems that blasts have gone out of control and has brought about the disaster.
A tweet in Boston Globe official Twitter page confirms the 'controlled explosions,' so in its most probability, blasts would be the police's own deadly blunder in Boston.