Syria
Brahimi: Iran's Viewpoints Can Properly Solve Syrian Issue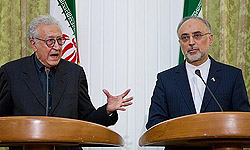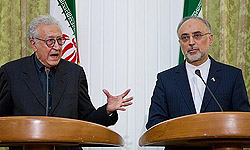 UN-Arab League Special Envoy on Syria Lakhdar Brahimi appreciated Tehran's written proposal for the settlement of the Syrian crisis, and said Iran's viewpoints can solve the problems in the Arab country properly.
"Highly good viewpoints have been raised in this proposal, which can solve the Syrian issue," Brahimi said at a joint press conference with Iranian Foreign Minister Ali Akbar Salehi in Tehran on Sunday night.
"We hope that we can collect all the ideas with the help of the Islamic Republic of Iran and other countries which pay much attention to the situation in Syria to work out a plan to put an end to the Syrian nation's nightmare and to serve the interests of that nation," he added.
Brahimi arrived in Tehran on Sunday afternoon to meet and confer with the high-ranking Iranian officials on different solutions to solve the problems in Syria.
Before his visit to Tehran, Brahimi in a phone conversation with Salehi in September emphasized Tehran's constructive role in the settlement of the Syrian crisis.
During the phone talk between two officials, Brahimi highlighted Iran's positive role in the Syrian developments, and stressed that political solution is the only way to restore durable peace in the Arab country.
He expressed hope that all the involved sides would help establish security in Syria as well as peace in the region.