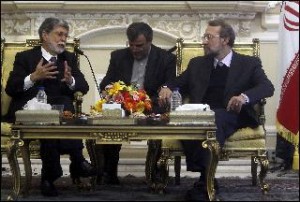 Amid a US drive to impose tough sanctions against Iran, UN Security Council (UNSC) member Brazil reiterates support for the country's "civilian" nuclear program.
"What we want for Brazilian people is what we want for Iranian people, which is expansion of peaceful nuclear activities," ISNA quoted Brazilian Foreign Minister Celso Amorim as saying on the first day of his two-day visit to Tehran.
Amorim also stressed the need for Iran's active participation in global matters, the report said.
In a Monday meeting, Iran's Supreme National Security Council secretary, Saeed Jalili, told Amorim that Tehran was eager to intensify cooperation with Brazil and ally South American nations "in line with efforts to disarm nuclear powers and protect human rights."
The meeting comes a day after Amorim said in a newspaper interview that the country was 'analyzing' whether it would say 'no' to the US-drafted resolution for the UNSC sanctions.
Brazilian President Luiz Inacio Lula da Silva plans to visit Tehran in May. He will meet with senior Iranian officials, including Iranian President Mahmoud Ahmadinejad, to discuss Iran's nuclear program.
Tehran, in line with its membership of the International Atomic Energy Agency, has defended its nuclear program as peaceful and for civilian purposes, highlighting that the country is a signatory of the Nuclear Non-Proliferation Treaty.
The United States, Britain and France, however, accuse Iran of using its civilian program as a smokescreen for developing nuclear weapons — a charge Tehran has repeatedly denied.
For the sanctions resolution to pass, nine of the 15 Security Council members must approve the measure. Two of the veto-wielding powers, Russia and China continue to send mixed signals on whether they would employ their veto, with Beijing urging a diplomatic solution on the issue.