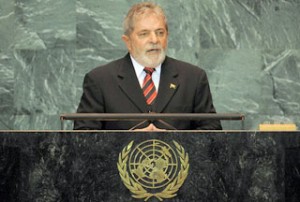 Brazilian President Luiz Inacio Lula da Silva has said Iran is entitled to the same rights as any other country in its use of nuclear energy for peaceful purposes.
"I defend for Iran the same rights with respect to nuclear energy that I do for Brazil," Lula told reporters outside the United Nations General Assembly.
"If anyone is ashamed of having relations with Iran, it's not Brazil," he added.
The Brazilian president made the remark following his meeting with his Iranian counterpart Mahmoud Ahmadinejad on Wednesday.
Ahmadinejad, for his part, assured Silva that his country's nuclear program was intended solely for peaceful purposes.
Lula called Iran a 'great partner' and defended Brazil's right to define its own foreign policy.
Western powers have declared that they might consider new sanctions against Iran, should the country refuse to halt its nuclear program through dialogue.
Tehran has repeatedly declared that it will not give up the Iranian nation's legitimate rights under Western pressure.
Lula further pointed out that he would meet his Iranian counterpart in the country's capital Tehran next year after Ahmadinejad travels to Brazil in November.
Meanwhile, the Brazilian president said international condemnation of Iran's election results is no barrier to closer relations between the two countries.
"What right do I have, or any president, to question the election results in Iran," Silva said. "It would be overly arrogant for Brazil, 12,000 kilometers away, to pass judgment on Iran's elections. Nor would I want them to judge ours."