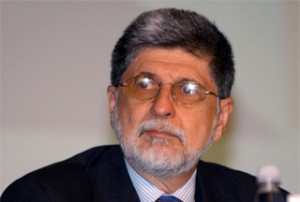 Brazil has made no formal proposal for a nuclear swap deal to provide Iran with highly enriched uranium, a Brazilian foreign ministry spokesman has told AFP.
Iranian President Mahmoud Ahmadinejad said in a telephone conversation with his Venezuelan counterpart Hugo Chavez that Tehran has agreed "in principle" with Brazil's offer regarding a swap deal to provide fuel rods for the Tehran research reactor earlier this week, a statement on the presidential office website said on Tuesday, without detailing Brazil's offer.
President Ahmadinejad also underlined the necessity for more negotiations on the technical aspects of the deal, the statement read.
However, AFP quoted A Brazilian foreign ministry spokesman as saying on Wednesday, "No such plan had been proposed during a visit to Tehran last month by Brazilian Foreign Minister Celso Amorim."
The spokesman added that no "formal program" was presented during Amorim's visit, as stated by the presidential office's website, AFP said.
According to a UN-drafted nuclear fuel swap deal, Iran should send most of its low-enriched uranium abroad for further processing and conversion into fuel rods for the Tehran research reactor, which produces medical radioisotopes.
Iran has demanded guarantees that the fuel will be delivered in a timely manner, and that the exchange should take place simultaneously inside the Iranian territory, but the West continues to ignore Tehran's demands.
Brazil, a non-permanent member of the UN Security Council, is resisting the US-led push for UN sanctions against Iran, and is among the countries trying to help finalize the swap deal.
The Brazilian foreign ministry spokesman said Brazil "remains ready to continue acting as a dialogue facilitator" in the standoff over Iran's nuclear issue.