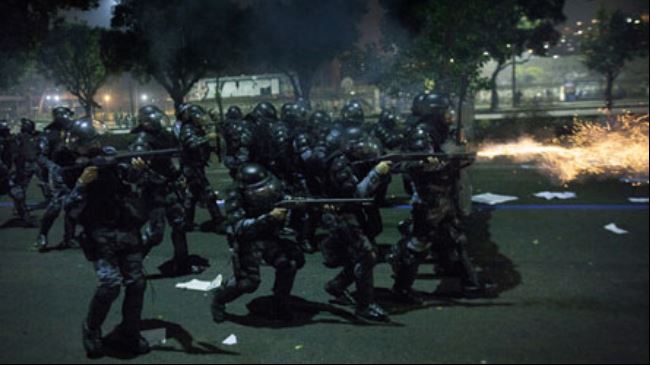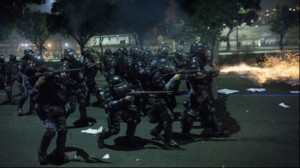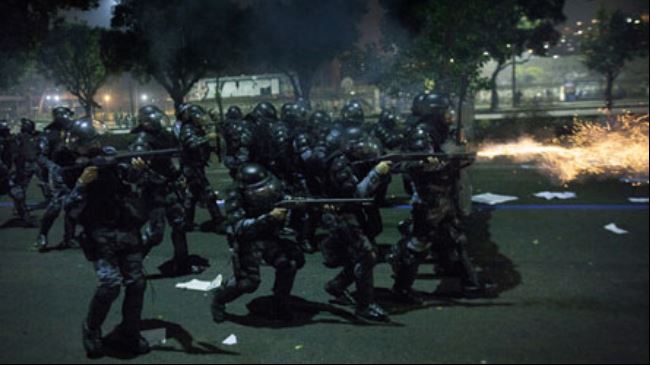 Brazilian police have fired tear gas to disperse hundreds of anti-World Cup protesters outside Maracana Stadium in the city of Rio de Janeiro.
The development took place on Saturday while Colombia and Uruguay were playing a World Cup knock-out-stage match.
Some 350 anti-World Cup protesters marched toward the stadium, which was guarded by about 250 officers. The security forces fired tear gas at the crowd just as they reached about a kilometer (half a mile) from the arena.
The demonstrators protested against the cost of the tournament, chanting slogans against FIFA and the Brazilian government.
"This Cup is not for Brazil, it's for FIFA," said a protester from the Tupi indigenous group, adding, "The political elite and FIFA are manipulating the people."
Meanwhile, a similar protest was held earlier in the day along Rio's Copacabana beach, where tens of thousands of soccer fans had gathered to watch the knock-out-stage match between Brazil and Chile.
Brazil has seen almost daily protests and strikes over the USD 11-billion expense of the World Cup. Critics say the money should have been invested in health, education, transportation, and housing sectors. They also accuse the Brazilian government of corruption in deals related to the infrastructure of the games.
Brazilian President Dilma Rousseff, however, has defended the government's decision to host the World Cup, emphasizing that investments in stadiums, airports and other infrastructure would provide the country with long-term benefits.
Rising inflation and a sluggish economy have reportedly tarnished the World Cup image in Brazil, which is the biggest country with the largest economy in Latin America. The World Bank said in 2012 that nearly 16 percent of Brazil's population of 200 million lived below the poverty line.