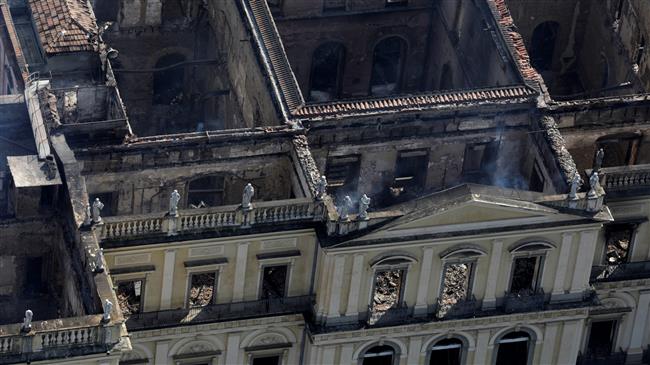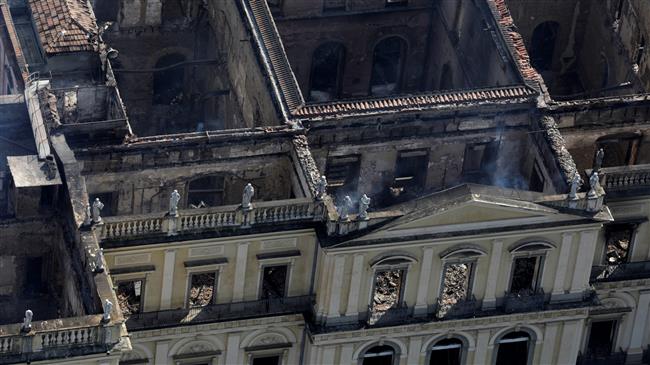 Police in Brazil have used tear gas against protesters angered by purported mismanagement and neglect that led to a fire destroying the country's National Museum building.
Live TV footage showed protesters gathering at the cherished historical repository in Rio de Janeiro on Monday, when police in riot gear fired tear gas at a small, angry crowd that attempted to enter the elegant park housing the 200-year-old former Imperial Palace.
The protesters were angered by the destruction of the museum, which had purportedly suffered years of financial neglect and lacked a sprinkler system.
"Our community is very mobilized, and very indignant," said Roberto Leher, the rector of the Rio de Janeiro federal university, which administers the museum. "We all knew the building was vulnerable."
Renato Rodriguez Cabral, a teacher in the geology and paleontology department of the university who entered the site on Monday, said the museum's destruction had not happened overnight.
"This was a tragedy foretold," Cabral said, adding, "Successive governments would not provide funds, they would not invest in infrastructure."
Later on Monday, police granted access to the site's perimeter, which demonstrators surrounded in a symbolic "embrace."
An investigation is underway to determine the exact cause of the fire.
Brazil's Culture Minister Sergio Leitao said the blaze had likely been caused by either an electrical short-circuit or a homemade paper hot-air balloon that may have landed on the roof. Such balloons are commonly used in Brazil and have routinely caused blazes in the country.
The museum had been founded in 1818 and contained several landmark collections, including Egyptian artifacts and the oldest human fossil discovered in Brazil.
President Michel Temer described the destruction of the building as an "incalculable loss for Brazil." However, his office did not respond to media requests for comment on widespread allegations of neglect.
In 2015, the prestigious Museum of the Portuguese Language in Sao Paulo had been burnt down.
The latter blaze came as an angry Brazilian electorate is reeling from a frail economy and widespread graft.