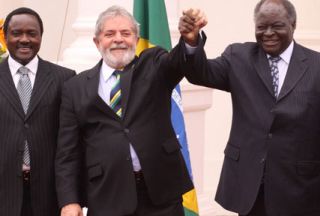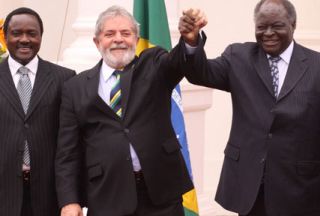 Brazilian President Luiz Inacio Lula da Silva has arrived in Lusaka and was welcomed by Zambian President Rupiah Banda at the airport.
On Thursday, President Lula will hold private talks with President Banda at State House before being honored with a medal at an investiture ceremony.
Lula's Tuesday visit to Nairobi added fresh impetus to the ongoing shift in Kenya's choice of economic partners in favor of the world's emerging powerhouses such as Brazil, China, and India, economists said.
Brazil, Russia, India, and China are commonly known as the BRICs, and save for Russia, have recently emerged as major players in Africa's trade and investment scene.
"What is absolutely striking is how much change there has been between the BRICs and Africa," Mr Jacko Maree, the CEO of South Africa's Standard Bank, told Reuters in an interview. "We like to think that the whole story has only just begun."
Brazil's arrival in Africa offers the continent an opportunity to diversify policy advice, trading partners, and sources of investment, pundits say.
On the first leg of his six-nation tour of Africa, President Lula attended a summit of the Economic Community of West African States (ECOWAS) in Santa Maria, Cape Verde on Saturday.
In his address to the leaders at the ECOWAS summit, Lula said Brazil and Africa were united for the future and spoke of "a shared commitment" between Brazil and Africa, "for peace, stability and development," AFP reported.
He went on to say that Brazil owes a "historic debt" to Africa, in an allusion to the many Brazilians who are of African descent.
"Brazil would not be what it is today without the participation of millions of Africans who helped build our country," BBC quoted him as saying.
On Sunday, Lula travelled to Malabo in Equatorial Guinea, where he met President Teodoro Obiang Nguema.
The Brazilian leader has made improving relations with Africa a focal point of his foreign policy, which emphasizes South-South relations.
Brazil's trade with Africa has quadrupled since Lula became president in 2002.
The trip will be his last to the continent as Brazil's president. He has travelled to Africa nine times, visiting 25 different countries.
On Tuesday he visited Tanzania.
The last stop of Lula's African tour will be South Africa, where he will attend the World Cup final on July 11.