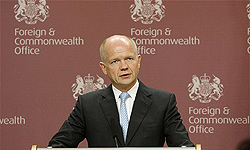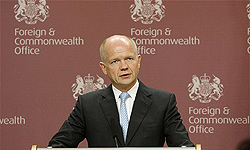 A ground invasion of the Gaza Strip will spark harsh sentiments against Israel on the international scene, British Foreign Secretary William Hague warned Sunday.
Hague told Sky News television it was much more difficult to limit civilian casualties in a ground assault and it would threaten to prolong the conflict, AFP reported.
"A ground invasion of Gaza would lose Israel a lot of support and sympathy" in the western world…, Hague said.
Today, the Israeli military struck two buildings used by journalists in Gaza on the fifth day of its aggressions on the Gaza Strip.
On Saturday, Israeli aircraft bombed Hamas government buildings in the Palestinian territory after Israel's cabinet authorized the mobilization of up to 75,000 reservists, preparing for a possible ground invasion.
Over 54 people have been killed and more than 550 others injured in the new wave of Israeli attacks. At least 150 of those inured in the Israeli attacks are children.