Saudi Arabia
British Daily Sees Saudi Stability Fragile due to Protests in Eastern Province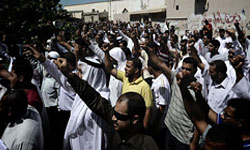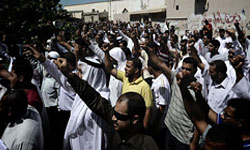 The British daily, Financial Times, in a recent report expressed concern about the deterioration of human rights situation in Saudi Arabia, and underlined that protests in the Eastern parts of the Arab country are worrying.
The paper said that despite the calm situation in Saudi Arabia and the fact that popular uprisings that toppled other Arab regimes have not been exported to Saudi Arabia completely, the massive protests by the people in the eastern parts of Saudi Arabia has risen instability in the country.
The newspaper pointed out that "these protests by the Shiite population in the city of Qatif continued and increased considerably, after Saudi Arabia sent troops to Bahrain to help the Sunni ruling family end the anti-government uprising after protests led by Bahrain's Shiite majority there".
The newspaper said that "the Saudi Interior Ministry claimed that they would use an iron fist against hooligans who attacked security sites, but the Shiite activists denied the accusations and called on the government to address issues of their community".
The newspaper found that "the Shiites in Saudi Arabia have always complained of discrimination by the Sunnis and the lack of job opportunities in the military and security functions and high-level ministerial posts".
Cities and villages in the Eastern parts of the Saudi Arabia are witnessing a new round of anti-regime protests after Saudi security forces killed a number of protesters in the past few days.
Protesters held demonstrations in the Eastern Province, mainly in the Qatif region and the town of Awamiyah and Rubaieiyah, calling for punishment of those involved in the killing of the protesting people.
Protesters also called for the freedom of all political prisoners.