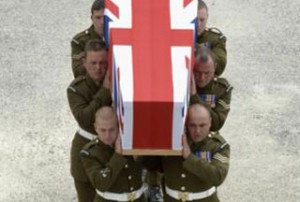 A British soldier has been killed in an explosion while patrolling in southern Afghanistan.
The soldier, whose identity has not been revealed, was killed on Monday in the Kajaki area of Helmand province where his 3rd Battalion, known as The Rifles, has been stationed along with other British troops.
The latest incident raises the death toll for British troops based in Afghanistan to 244, the British Defense Ministry announced.
"It is my sad duty to inform you that a British soldier from 3rd Battalion, The Rifles was killed this afternoon," Lieutenant Colonel David Wakefield, the spokesman for the British military's Task Force Helmand, said on Monday.
"He was caught by an explosion while on patrol in the Kajaki area of Helmand province. His courage and his sacrifice will not be forgotten," he added.