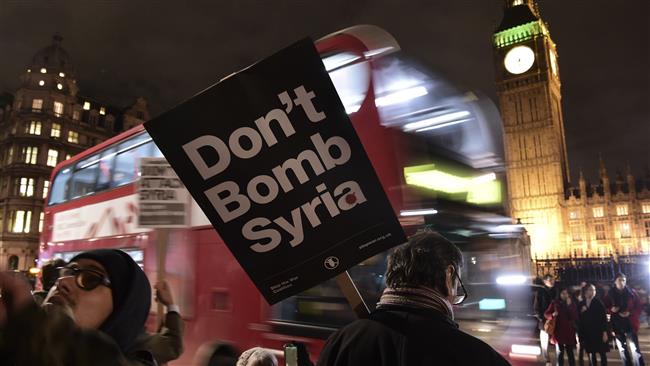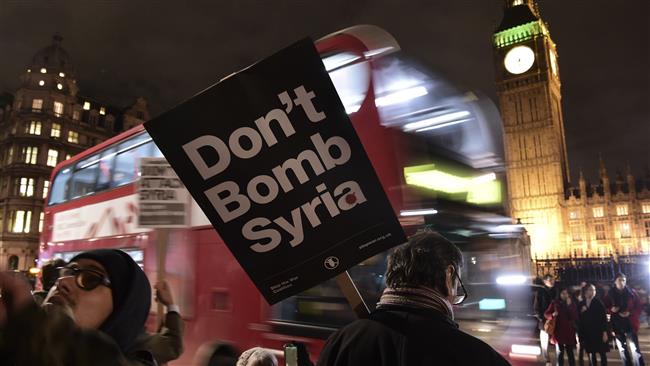 A new poll suggests people in the United Kingdom are divided over the government of Prime Minister David Cameron's plans to carry out a bombing campaign against Daesh militants in Syria.
On Wednesday, as a vote in the Commons is expected to give David Cameron a substantial majority to start bombarding Daesh positions inside Syria, a survey conducted by the online polling organization, voteScotland-England, has shown that voters in Scotland and the rest of the UK hold divergent views on the need for further military action in Syria.
According to the poll results, a clear majority of Scots, that is, 72 percent, are against airstrikes that are possible to intensify the hatred of Daesh towards the UK. Most of those polled in Scotland said they were against the air raids as they could worsen the current situation by intensifying Daesh terrorists' hatred towards Britons.
This is while about 54 percent of voters in England are in favor of the air attacks in Syria, saying that the campaign, which would be an extension of the UK's air assaults against Daesh in Iraq, would be aimed at weakening the militants operating in Syria and neighboring Iraq, as well as in other countries.
"Our polling shows that while the PM has good support in England, that is not the case in Scotland. The UK is divided as the numbers show," the polling organization's founder, Martyn Greene, said.
Wednesday's parliamentary debate will see a motion put to the vote aimed at paving the way for the start of the campaign.
The Scottish National Party's 56 lawmakers are expected to vote against the government's 12-point motion, which has already been approved by Cameron's cabinet.
Scotland's sole Labour MP, shadow Scottish Secretary Ian Murray, and the majority of Labour Members of the Scottish Parliament (MSP) are all against the motion.
Meanwhile, British opposition Labour leader, Jeremy Corbyn, claims that about 75 percent of his party's grassroots members support his opposition to the extension of the UK airstrike campaign.