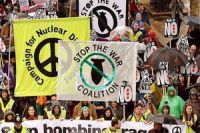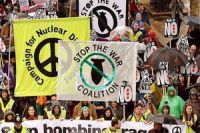 Britons take to the streets of London protesting the UK's participation in the US-led military campaign in Iraq.
According to IRIB, the protesters who gathered on Saturday in London had a clear message for the British government: Iraq cannot be attacked in the public's name.
Jeremy Corbyn was one of Britain's 43 MPs who did not vote in favor of the airstrikes.
While explaining the flaws of the arguments to join the US-led military campaign in the region, Corbyn told the Press TV correspondent in London, "Every time Britain has been involved in American-led wars in Afghanistan, Iraq or Libya it has actually increased extremism not reduced extremism. There has to be a political solution."
Student representative of Stop the War Coalition Shadia Edwards-Dashti told the correspondent, "Bombing Iraq will not solve the crisis in the Middle East. We have to learn from history, we have to learn from over a decade of war that Britain has been involved in. What has happened to this country is shocking, it's a disaster it will be catastrophic."
Protesters told the correspondent they would keep building up their movement against further British military action in the Middle East until the government comes to its senses and adopts a long-term strategy.