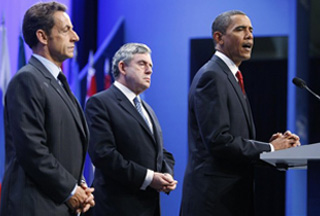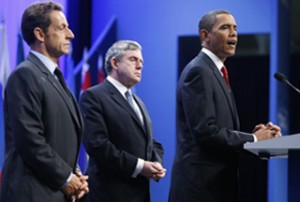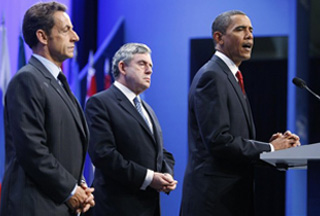 The British Premier and French President had reportedly had a secret row with the US President to push him to slam Iran's peaceful nuclear program during UN talks.
A new report published in Britain's Daily Telegraph on October 2 reveals that the Britain's Prime Minister Gordon Brown and Franc's Nicholas Sarkozy had a clandestine '"row" with Barack Obama ahead of a UN Security Council session in late September, demanding Obama take a tougher stance on Iran during a joint press conference.
Obama's expressions of "worries" and "reservations" after Iran informed the UN nuclear watchdog about the newly-constructed Fordu nuclear plant had angered Brown and Sarkozy who sought to compel the US president "to draw a line in the sand" on the country's nuclear plans, the report adds.
Brown eventually used the term "line in the sand" in his address about relations with Iran.
The report also indicates that the French and British leaders looked for an opportunity to pretend that the 'three countries' intelligence services' joint efforts unveiled Tehran's uranium enrichment activities monitored by the UN nuclear watchdog, the International Atomic Energy Agency (IAEA).
The Brown-Sarkozy efforts led to a joint appearance with Obama on the sidelines of a September 25 global economic forum in Pittsburgh, US, in which Obama charged Iran with attempting to cover the nuclear project for years.
The US and a number of European states have accused Iran of seeking to acquire nuclear weapons; a charge Tehran has rejected vigorously.
In turn, Iran has called for the elimination of all nuclear and other weapons of mass destruction across the globe.
The IAEA, though, has on various occasions confirmed that Iran has enriched uranium-235 only to a level "less than 5 percent" – the enrichment degree needed for civilian purposes. The UN nuclear watchdog has also confirmed that it has found no evidence of the diversion of any nuclear material from civilian facilities to military purposes.
Uranium, the fuel for a nuclear power plant, can be used for military purposes only if enriched to high levels of above 90 percent.
The Nuclear Non-Proliferation Treaty, to which Iran is a signatory, gives the country the right to the full nuclear fuel cycle for peaceful purposes.