Asia-Pacific
Human Rights
India
Brutal Indian regime tightens security in Kashmir ahead of Friday prayers, organized rally
Indian authorities have tightened security to prevent people from gathering for Friday prayers, which will be followed by an organized protest rally toward a United Nations office, in the Muslim-majority region's main city.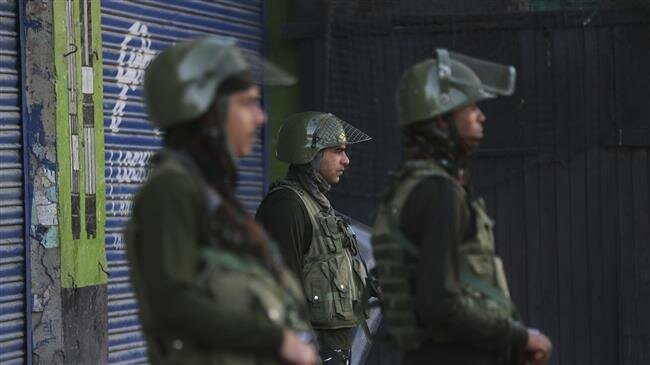 Security forces have been deployed in downtown Srinagar on Friday as protesters are prepared to march to the office of the UN Military Observer Group for India and Pakistan (UNMOGIP) — which monitors ceasefire violations along the border between India and Pakistan.
Several dozen armed forces blocked the main road leading to the office of UNMOGIP in Srinagar and public movement around it was blocked as well.
"They (security forces) closed it (streets) so that people don't get to pray, or people don't gather here in large numbers, or protests don't happen," said a resident.
Police vans were also seen in the streets announcing a curfew and asking people to stay indoors.
Protest organizers urged people on Thursday to hold a rally after the Friday prayers in protest against the lockdown which was imposed on the region earlier this month.
The rally is also organized to protest against India's recent move to strip Jammu and Kashmir of its special autonomy.
The Muslim-majority Himalayan region has been in a crippling lockdown since New Delhi announced it was removing the region's special status on August 5th.
The move has prompted protests across the region over the past two weeks. Some gatherings drew hundreds of people.
Senior officials and eyewitnesses were quoted as saying that violent clashes took place between residents and police in many occasions, in which dozens were injured.
Eyewitnesses also said Indian troops fired tear gas, chilly grenades and rubber pellets to disperse protesters in the Rainawari, Nowhetta and Gojwara areas of the old city.
The government of Prime Minister, Narendra Modi, has said the cancellation of special status was necessary to integrate the disputed area fully into India.
Kashmir has been split between India and Pakistan since their partition from Britain in 1947. Both countries claim all of Kashmir and have fought three wars over the territory.