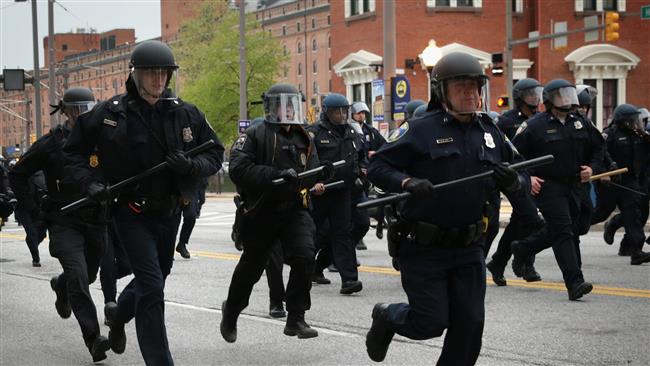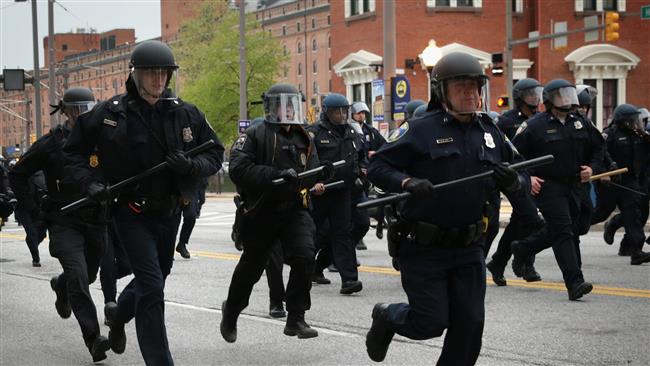 Brutal Police in the US city of Baltimore have made arrests after clashes with protesters who were angry over the last week death of an African-American man in police custody.
The Baltimore Police Department announced on Sunday afternoon that 35 protesters had been arrested.
Thousands of people took to the streets of Baltimore to protest the brutal killing Freddie Gray who died on April 19 after white police officers broke his spine in their custody.
The demonstrators were carrying placards bearing the message "Black Lives Matter" and "Justice 4 Freddie Gray".
They also chanted slogans against racial discrimination and police brutality in the United States, with many shouting "No Justice No Peace," which has become a centerpiece of the persisting protests over the past week.
After several hours of peaceful demonstrations, scuffles broke out between police and a group of protesters and some people smashed windows.
Baltimore's representative in the US Congress said the violence was basically perpetrated by people from other cities.
Baltimore Police Anthony Batts said on Saturday evening that the chaos began after a group of protesters splintered off from the main demonstration.
Batts said the angry protesters confronted some 300 police officers around Camden Yards, but the residents stepped in.
"Residents put themselves in between police officers and this agitated crowd and asked for calm and asked for peace," Batts said, "which was very good to see."
The 25-year-old black man died of the spinal injury he sustained during his April 12 arrest.
The tragic incident, which was captured by an eyewitness on his cell phone, shows an injured Gray being dragged into a van by police officers.
The killing was just one of a succession of fatal police brutalities in recent months.
In recent months, large-scale protests were held across the US after a series of high-profile incidents of white police officers killing unarmed African-American men, including Michael Brown in Ferguson, Missouri; Eric Garner in Staten Island, New York and Walter Scott in North Charleston, South Carolina.